Areas of Paxos & Antipaxos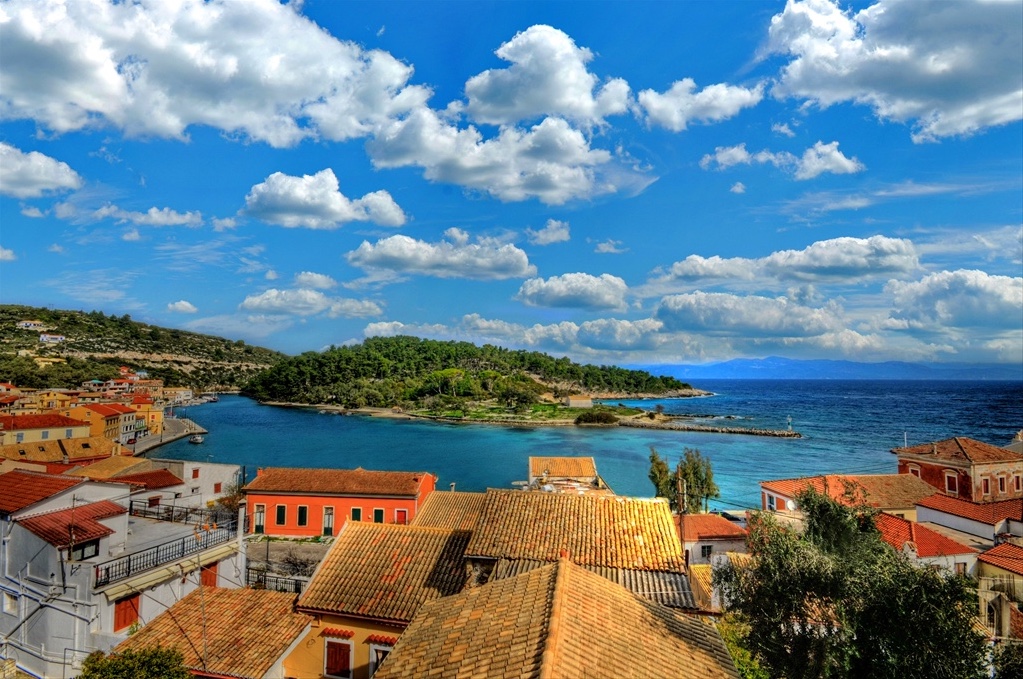 Heading down to the Ionian Sea islands? If you're wondering what areas of Paxos and Antipaxos to visit, this article will get you going. Discover the natural treasures, the sleepy fishing villages, amazing beaches, and culinary delights that this archipelago has to offer.
Paxos and Antipaxos are criss-crossed with donkey trails that run past and through the olive groves and forests. This makes for great hiking, running, and mountain biking. One recommendation is to get the Bleasdale map. This is a very details hiking map made by a fan of the island. It shows you lots of hidden gems, from the cliffs of Erimitis Bay through church ruins and abandoned oil presses, to spectacular rock formations like Tripitis Arch.
One of the attractions of Paxos and Antipaxos is their peace and quiet. This is where famous people like Angelina Jolie, Keanu Reeves, and Madonna like to spend their downtime, while the Agnelli family that part-owns Fiat has a palatial villa on the island.
The island's charm is, among others, in its harbours where yachts and fishing boat co-exist, in the local cafes where old men drink their Greek coffee and visitors order their cappuccinos, and in the restaurants where flavoury and savoury traditional food is served. Take a stroll through the pedestrian streets of towns like Gaios, Loggos, and Lakka. Admire the art in local galleries, hunt for souvenirs, or simply unwind on a seaside terrace.
Don't expect to find noisy clubs and big casinos on Paxos. But this calm atmosphere is exactly what draws the rich and famous here, who appreciate their privacy. The wildest it gets is plate-throwing during a big, fat, Greek wedding. However, you are more likely to catch a local DJ playing or a small band performing.
For chilled DJ tunes, head to Roxi by the waterside in Loggos. In the evening, this is a great place to have a few cocktails and maybe even dance between the tables. Another place for DJ sessions is low-key Averto. This bar with a lovely garden is in the middle of the island, away from the coast in the town of Magazia, but still has sea views.
For live music, you can try your luck at Taxidi Bar in Loggos. At irregular intervals, locals will take their bouzoukis down to the bar and play traditional tunes, while singing as loud as they can. Live music can also be enjoyed during one of the island's few festivals, notably the classical music Paxos Festival, and the Paxos Reggae Festival.
The best beaches on Paxos
Among the areas of Paxos and Antipaxos worth visiting are their beaches. On the main island, Paxos, one of the beaches you shouldn't miss is Kaki Langada. It is located 3 km north of the island's capital, Gaios. It's about 100 metres long and has its own taverna with a mix of tasty Italian, Mexican, and Greek dishes. You can also hire sunbeds and umbrellas from this beach bar.
Kipos Beach is on the road between Gaios and Loggos, somewhat hidden between the old olive groves. This is an undeveloped beach on which you will meet few people; you might even have it to yourself. Make sure you bring jelly shoes, a foldable chair, and plenty of supplies in case you get hungry or thirsty.
Levrecchio Beach is only 50 metres long and can be found 300 metres from the town centre of Loggos. Here, you will find a clear, turquoise sea, an abundance of pine trees, and white pebbles. The beach bar here, Bouloukos Taverna, serves lovely food and ice-cold frappés, among other things.
Monodendri Beach is one of the better-developed beaches. It has various beach bars and you can rent sunbeds here. You may even want to rent a villa on the holiday park right behind it, which has a tennis court and swimming pools, too.
The best beaches on Antipaxos
The beaches on Antipaxos belong to some of the most beautiful in Europe. In fact, you wouldn't even believe you are in Europe. With their turquoise waters and powdery white, sandy beaches, you would swear you were in the Caribbean. Not surprisingly, these beaches have caught the attention of Instagrammers and day trip crowds that visit from Corfu.
Vrika Beach is arguably the best beach of Antipaxos. Fine white sand is hard to come by in the Ionian Sea, so this is your change to spread your towel and lie down in the sun. True to the Greek tradition, sunbeds and parasols are available too. And to complete this picture of perfection, there is a lovely beach taverna with delicious food and ice-cold beer.
South of Vrika is Mesovrika Beach. This beach is not sandy, but pebbly. However, these white pebbles contrast wonderfully against the green trees and various shades of blue of the Ionian Sea. It's an easy hike from Vrika Beach at just 250 metres.