Just a short drive from fishing village Loggos is secluded Kipos Beach. This is a relatively small beach, made up of white pebbles with some vegetation growing between them. There are no facilities and the road to Kipos Beach is unpaved, which contributes to this beach being a real off-the-beaten-track destination. In fact, often you will have this beach all to yourself!
Before visiting Kipos Beach, let's check out its exact location, how to get there, and what to bring. On this page, you will read all the information you need about this lovely little beach.
What is Kipos Beach like?
Kipos Beach is an undeveloped beach with crystal clear waters. If you want to get away from other tourists and experience Greece's raw nature, this is the place to go. Like many other beaches on Paxos, it is made up of white pebbles. To walk on these comfortably, we recommend you bring jelly shoes.
Kipos Beach has the typical, turquoise to deep blue waters that the Ionian Sea is famous for. The beach is lined by limestone rocks and pine trees, which provide shade in the afternoon. There are no sunbeds and there is no taverna, so make sure you bring your own food and drinks. But remember: leave nothing but footprints!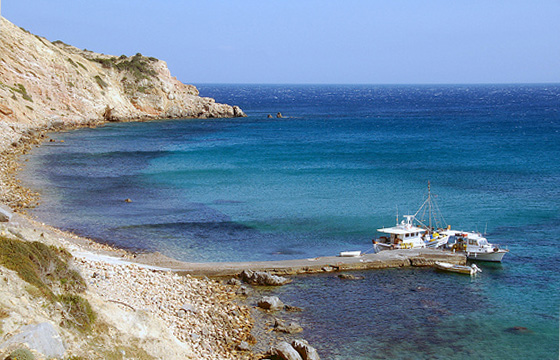 Kipos Beach is located on Paxos, a Greek island in the Ionian Sea. More precisely, you can find this beach on the strip of coast between the towns of Loggos and Gaios. In fact, it is closer to Loggos (2 km) than it is to Gaios (7 km). To the north of Kipos Beach is Marmari Beach and to the south you will find the relatively big Kipiadi Beach.
You can go to Kipos Beach in a variety of ways. The least obvious but perhaps the easiest way of getting there, is by sea. Whether you rent a canoe, a jetski, or a yacht, the views you will have of Kipos from the water are priceless.
If you are like most people, however, you will travel by car. From Loggos, it will take you about 7 minutes to reach this beautiful little bay. It is a winding road through pine-clad hills and past big villas. If approaching this beach from Gaios, the 18-minute drive takes you through the village of Kourteika in the centre of Paxos.
The last few hundred metres to Kipos Beach will take you through olive groves. If you come from the direction of Loggos, you will have to leave your car about 100 metres up the hill, by the gate of a private villa. If you approach Kipos Beach from Kagkatika, you can leave your car between the olive trees, about 300 metres from the beach. In both cases, you will have to cover these last few metres on foot.