Beaches on Paxos
Do you need a getaway this coming summer holiday season? Do you crave for some peaceful time on a Greek beach away from the crowds? And are you looking for beaches with crystal clear water and pebbles and stones, instead of sand? If your answer is yes, then the relatively unexplored but beautiful beaches on Paxos might be the perfect destination for your holiday! The island of Paxos is known for its beautiful beaches with translucent waters. However, the beaches on Paxos are also voted as one of the top twenty great escapes by most leading travel magazines.
The best beaches on Paxos
The unique thing about the beaches on Paxos is that hardly any of the beaches are sandy, perhaps only one or two. The beaches on Paxos on the eastern tip of the island are covered in pebbles, whereas the western coast of Paxos has no beaches at all. Here, you will find deep and rugged cliffs. Most of the beaches on Paxos are very narrow and pebbly, but have clean and crystal clear waters. This makes them perfectly suitable for boat excursions and snorkeling activities. Let's take a brief tour of the best beaches on Paxos.

There are around  30 Paxos beaches. All varying in size, but most are well accessed by boat and some are accessible by foot. The most popular Glyfada beaches are: 
MONGONISSI
KAKI LANGADA
LEVRECCHIO
KIPOS
GIANNA
SOULANENA
BALOS
MONODENDRI
GLYFADA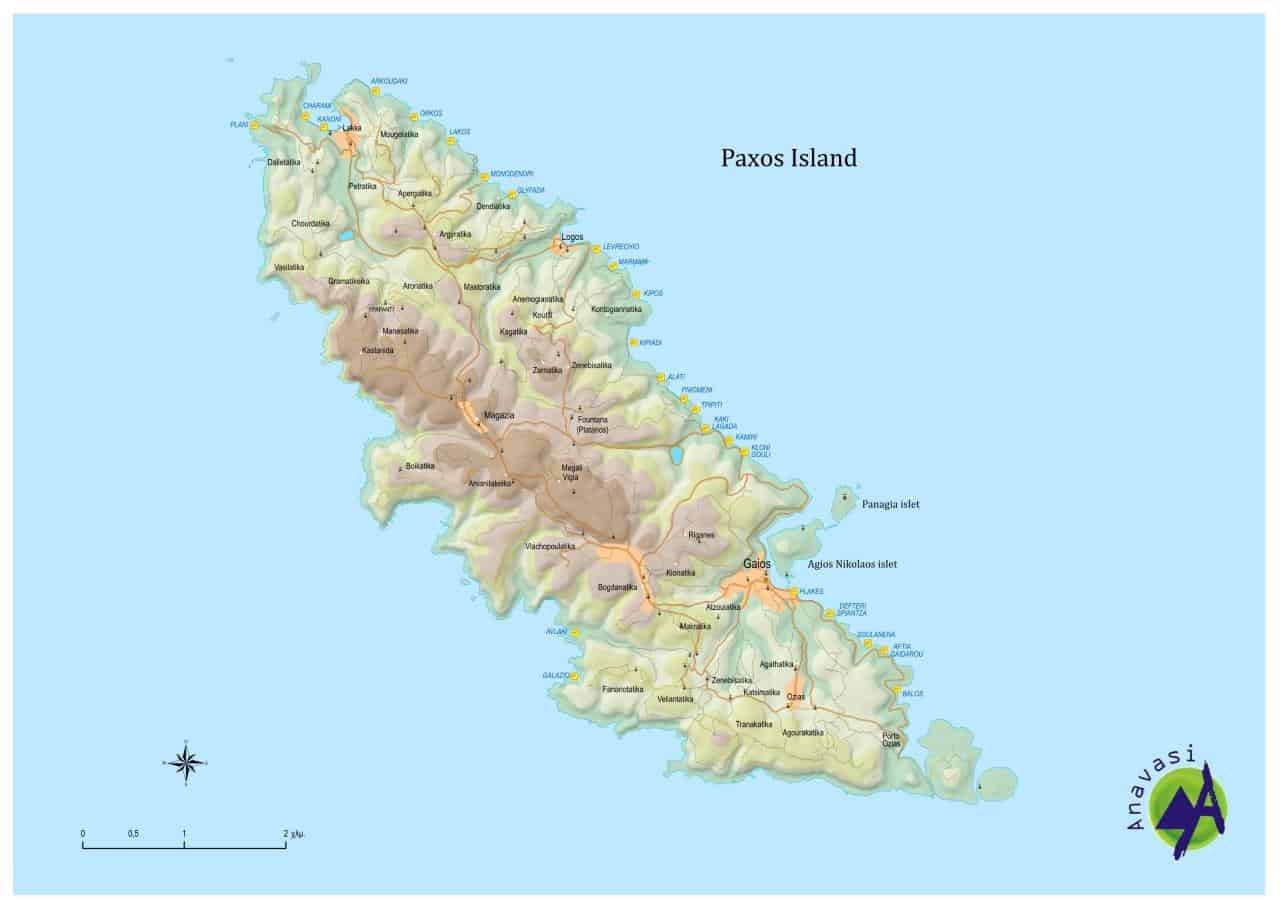 Mongonissi
Mongonissi used to be a rocky cliff, but these were removed to make way for a gorgeous, white, sandy beach. Mongonissi combines the rocky scenery so prevalent on the west coast with the lush vegetation of the east coast. This beach sits on a separate little island and is accessed by a foot bridge. There is a beach restaurant that helps you make the best of your day.
Kaki Langada
This pebbly beach is close to Gaios, the island's capital. With it's width of 100 meters wide, it is one of the longer beaches on Paxos. Just behind the beach you will find parking space and some trees provide natural shade. In the summer season, a beach bar operates here.
Levrechio
Tiny, white stones make up Levrechio, an idyllic beach about 50 meters wide. Situated at walking distance from the town of Loggos, it combines the best of nature and nearby facilities. In fact, you don't even need to leave these turquoise waters behind, as there is a taverna right by the beach. This is a truly quintessential Greek beach.
Kipos
On the east coast of Paxos, between Marmari and Kipiadi, you will find Kipos beach. Nestled between two cliffs, this is a strip of white pebbles that seem to melt into the deep blue Ionian Sea. Expect no tavernas or chill-out bars here: Kipos is off the beaten track and can only be reached via an unpaved road.
Gianna
Gianna beach is part of Gaios, the island's capital. It is situated right next to the port on the main road towards Mongonissi. Due to its convenient location, it attracts local crowds in summer. The rocks on the beach create a shallow, natural pool with warm water, which makes this a popular destination for families with small children.
Soulanena
Soulanena is a small, pebbly beach right in front of the Paxos Beach Hotel. If you enjoy pampering yourself, why not spend the day here. You can enjoy the sunbeds, the hotel restaurant, and the Wi-Fi, and in the evening you can return to your comfortable stone villa at Glyfada.
Balos
Balos is a tiny cove on the southwestern coast of Paxos. At the bottom of green hills, carpeted with cypress and pine trees, you will this short strip of pebbles that slowly descend into the turquoise water. This is a great spot for a sunrise dip or an early morning yoga session, when you will have Balos beach all to yourself.
Monodendri
Monodendri has the best facilities of any beach on Paxos. Glyfada Beach villas and two other seaside tavernas all manage and clean the beach, providing the beach-goers with sun loungers and parasols. The trees provide ample shade, combining to make this the perfect place for a beach day on Paxos.
Glyfada
And, of course, there is also Glyfada Beach. Glyfada Beach has a thermal spring (cold) and is one of the most beautiful small beaches on Paxos. It is a small pebble beach reachable by foot through small walking paths or by boat. Glyfada Beach is located close to our Glyfada Beach villas with two swimming pools and a tennis court what makes it the perfect holiday destination. So why not book one of our beach villas and create memories that will last forever?
Popular Destination
Gaios
Gaios is the capital of Paxos, and has stunning harbour laced with cafes and tavernas. One of the best beaches around here is Mongonissi. This is a sandy beach, ideal for swimming, with a few secluded coves that can best be accessed with a boat.
Lakka
Lakka has an excellent harbor, which is stunningly shaped like a horseshoe. The water in this harbor is safe to swim in, even for children. Around these waters you can see some amazing sea caves. Harami and Kanoni are two beautiful beaches inside the bay of Lakka, which are especially favorite among families.
Loggos
Loggos is a small picturesque town, that has a great harbor for fishing. If you're interested in snorkeling, you should go to the Levrechio beach, which is close to Loggos. The beaches of Kipos and Marmari are near Loggos too. However, these beaches are accessible only by boat or foot. On the south side of Loggos, you can find Pounda beach. When you travel even more to the south from Pounda, you will reach Kipiadi beach, which is a favorite beach for anchoring yachts. Furthermore, Monodendri beach is a famous beach, when it comes to water sports. Glyfada beach is further to the south, but it is easily accessible by a steep footpath from the south.

Since Paxos is relatively small and the beaches are close together, you can visit all these Greek beaches in a matter of 3 or 4 days. Remember: beaches on Paxos are made up of pebbles, stones, or rocks. This gives these beaches their own unique charm and ensures crystal clear visibility, since no sand particles are floating around. The Glyfada beaches are ideal for sunbathing and swimming, as the sea here is calm and clean. It's clear to see why Paxos beaches were voted as one of the top twenty great escapes!