Levrecchio Beach – Small Beach on the Island of Paxos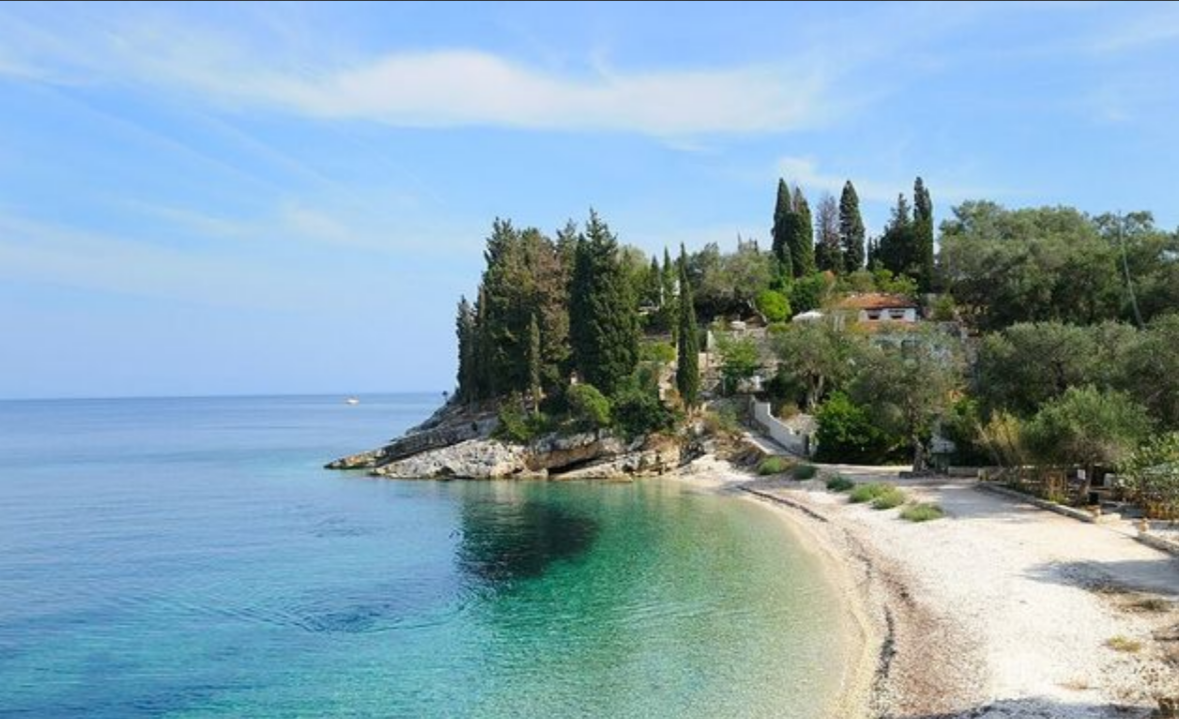 Levrecchio Beach, which the Greeks call "Paralia Levrecchio", is a small beach on the island of Paxos. At just a short walk, ride, or drive from the town of Longos, this beach is easily accessible and family-friendly. Let's see what the beach is like and which facilities you can expect to find here.
The quintessential Greek beach
If you imagine a Greek beach, what does it look like? Chances are you mention white pebbles, gently sloping into a calm, turquoise sea. Your imagination will probably also include pine trees lining the beach, and a taverna with tasty food and ice cold frappés.
Your imagination is spot on, because that is exactly the way we would describe Levrecchio Beach! Situated on the east coast of Paxos, this beach catches the sun until mid-afternoon, when it disappears behind the trees and the hills. This is a moment when many beach-goers decide to either pack up and leave or have a late lunch in the beach bar.
This beach is a perfect getaway for families with kids. The water is shallow and there are hardly any waves, so children can play here safely. The Ionian Sea, in all shades of green and blue, invites you for a swim or for a snorkeling session. Levrecchio Beach is relatively small: it's a stretch of pebbly beach of about 50 metres in length.
Just 300 metres separate Levrecchio Beach from the town centre of Longos. For guests of Glyfada Beach Villas & Restaurant, Longos is actually the nearest town. A 7-minute drive or a 15-minute hike across the hills take you to this charming fishing village.
If you travel to Paralia Levrecchio from the Gaios area, you will pass the towns of Kourteika, Kagkatika, and Kontogiannatika before arriving in the outskirts of Longos. The last few metres of your trip are down a steep road to the beach. You can park your car at the beach bar car park. If you're early, you can pick a shady spot.
Food and drinks at Bouloukos Taverna
Levrecchio Beach wouldn't offer the unforgettable experience that it does, without the presence of its beach bar. Bouloukos Taverna is laid out in a way that there are several shady spots to sit at. Enjoy your drinks or lunch under the big olive trees and enjoy uncluttered views to the blue horizon.
Bouloukos Taverna uses only the freshest ingredients. Their mission is to keep the Greek cuisine alive with authentic flavours and delicious recipes. The menu offers fresh seafood, stews, salads, pastas, and grilled meat. The bread that accompanies your meal is home-made. And as for dessert, the kitchen staff make their own Italian-style gelato.
Thirsty? The beers on tap are Mythos and Fisher, while there is a wide range of spirits, mixers, and creative cocktails. Of course, Greek and Italian coffee is available too, either in its purest form, as a cappuccino, or ice-cold in a sweet frappé. For more information about this beach restaurant, check out their website.