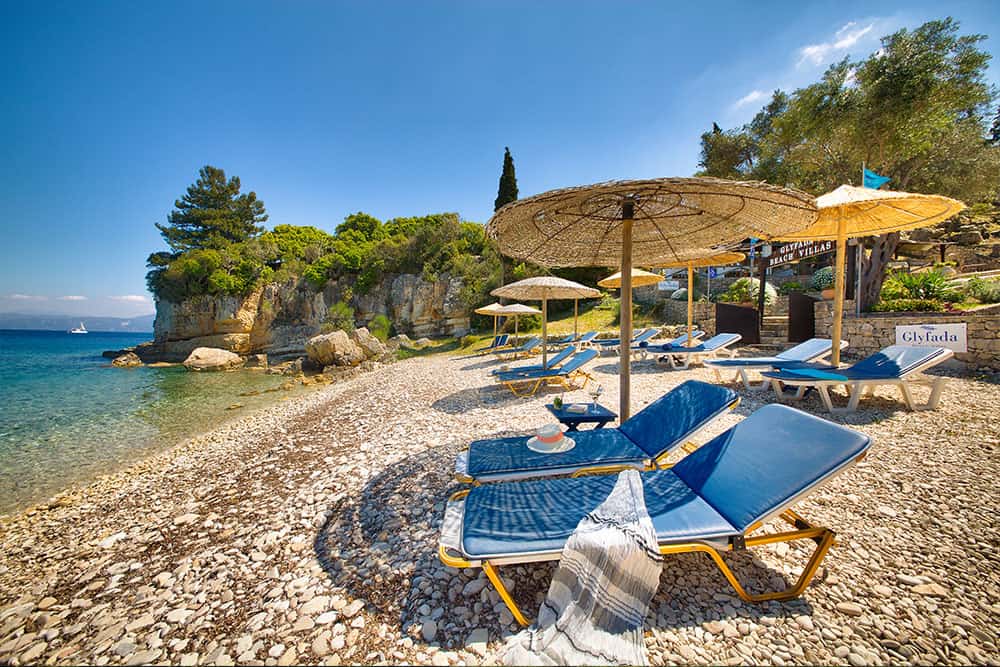 A crystal clear sea in hues of aquamarine, turquoise, and teal shimmers before you. Under the shade of a pine tree, you drop your towel, and take off your shirt. You resist the temptation to grab your smartphone and snap one photo after the other. No, first you want to take a refreshing dip in the Ionian Sea. This scene is daily reality on Monodendri Beach on Paxos. With the perfect mix of natural beauty and creature comforts, this is the perfect destination for a relaxing day at the beach. Whether you're alone, come as a couple, or even as a family, this beach will create memories that last a lifetime.
Getting and parking there
Monodendri Beach is one of the best beaches on the Greek island of Paxos in the Ionian Sea. The only way to get to Paxos is by boat, for example on a passenger ferry from Corfu or from the mainland port of Parga. The fact that Paxos doesn't have an airport, means there is no mass tourism. This makes your days at the beach a lot more pleasurable, as there is enough space for everyone.
Monodendri Beach is situated in the northern part of the island, a short drive from Loggos and about 9 kilometres from the island's capital, Gaios. An asphalt road that turns into  gravel takes you down to the coast from the Loggos–Lakka artery. You can park your car at one of the three businesses located at Monodendri Beach: Ben's Bar, Manadendri Fish Restaurant. Your best option is to park at Glyfada Beach Villas & Restaurant, from which it's only a few steps down to the pebbly beach.
Like so many beaches in the region, Monodendri offers fantastic underwater visibility due to its pebbly sea bottom. So apart from being a very photogenic beach, this is also a snorkeller's paradise. Make sure to bring your mask and goggles for the full experience.
What makes Monodendri Beach so perfect, is the availability of sunbeds and parasols. This means you can lie down comfortably on this white pebbly beach. The sunbeds on Monodendri Beach can be rented at the above-mentioned businesses, each with a different price. They are most affordable at Glyfada Beach Villas. For only four euros, you get a sunbed and a parasol. Waiters of the beachside restaurant will take your orders right on the beach and bring your drinks right to you. "This is life," you will sigh, taking in these million-euro views.
Why Monodendri is more than a beach?
We dare say that Monodendri is a lot more than just a beach on Paxos. Monodendri is a way of life, a philosophy. One that requires living in the moment and enjoying the small things. On an island with a modest population and only a few roads, time seems to expand when you spend it with the people you love. And Monodendri Beach is the ideal place to do so. See you soon?