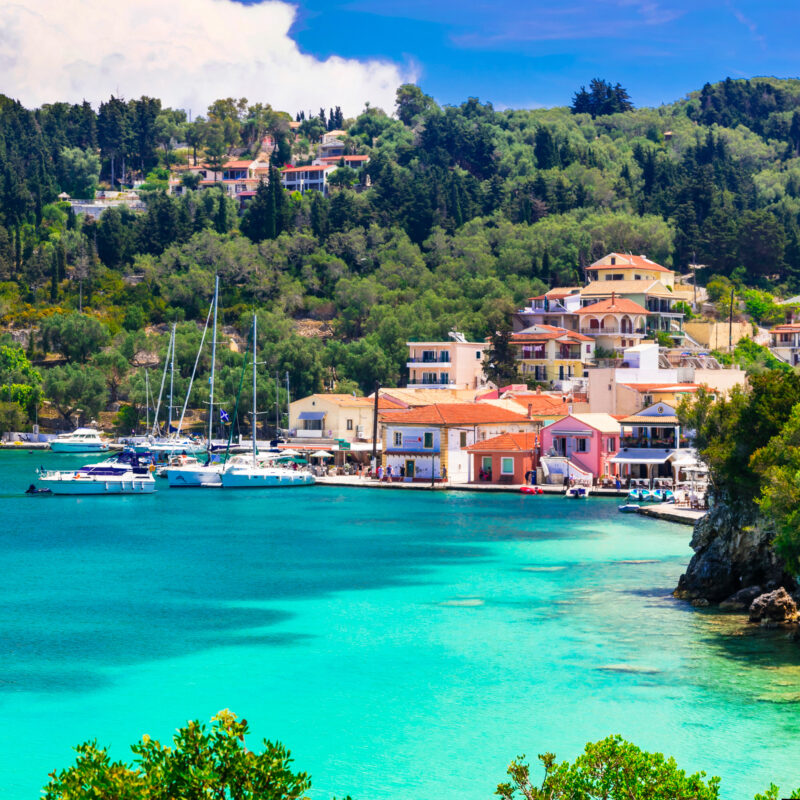 Paxos is a small and beautiful island in the Ionian Sea, south of Corfu and west of mainland Greece. It has a population of about 2,500 people and no airport, which means that is has managed to avoid the type of mass tourism that Corfu is infamous for. With a rich history, a varied landscape, and a laid-back way of life, Paxos has a lot to offer. Read on to discover what things Paxos is good for.
Paxos is good for relaxing
For a serene retreat to relax and recharge, consider Paxos. Far from the bustling tourist hubs, it promises tranquility, whether you're lounging on the beach or staying at Glyfada Beach Villas & Restaurant, equipped with all necessary amenities.
Paxos is good for exploring
A variety of natural and cultural landmarks are waiting for you on Paxos. Explore coastal wonders like the Blue Caves, the cliffs of Erimitis, and Tripitos Arch. Visit pristine beaches like Monodendri, Kipiadi, and even Voutoumi on neighbouring Antipaxos. Dive into the island's history in villages like Loggos and Gaios.
Paxos is good for sailing
Paxos is a paradise for sailing enthusiasts, with its clear blue waters, scenic coastline, and nearby islands. You can rent a boat or join a tour and sail around Paxos, admiring the beauty and diversity of the island. You can also sail to Antipaxos, a smaller island south of Paxos that has some of the best beaches in the Ionian Sea.
Paxos has many trails and paths that lead to stunning views and hidden gems. You can hike along the coast or through the olive groves, enjoying the nature and scenery of Paxos. You can also hike to the old windmills, the Venetian fortress, or the Lakka lighthouse, all of which are part of the history and heritage of Paxos.
Paxos is good for gastronomy
Oh my word. Greek food is amazing, and Paxos allows you to try the best that Greece has to offer. Local specialties include ladopita (olive oil pie), bourdeto (fish stew), and sofrito (veal in garlic sauce). Make sure you take advantage of the fresh seafood, such as octopus, squid, or lobster. There are lots of restaurants, taverns, and cafes to choose from.
Paxos is good for shopping
Paxos has a variety of shops and markets that sell local products, souvenirs, and handicrafts. Bring home some olive oil, soap, pottery, jewelry, or paintings made by local artisans. You can also buy clothes, accessories, books, or music that reflect the style and culture of Paxos. Gaios, Lakka, and Loggos allow you to combine dinner and a stroll through its shopping streets.
Paxos is good for swimming
Here, you can find some of the best beaches in the Ionian Sea, with crystal clear water that invites swimmers to jump in. In summer, the water temperature often goes above 25 degrees. In the mornings, there are hardly any waves, ensuring a pleasurable swimming experience.
Paxos is good for fishing
Paxos is a paradise for fishing lovers, with abundant marine life and fishing opportunities. Here, you can reel in tuna, swordfish, or mackerel. Onshore fishing can be done at virtually any rocky headland, but maybe you'd prefer game fishing with one of the island's fishing charters?
As you can see, Paxos is good for many things. But above all, Paxos is good for you. Paxos is a place where you can relax, explore, sail, hike, eat, shop, swim, fish, learn, and love. In other words, Paxos brings out the best in you and your loved ones. So what are you waiting for? Visit Paxos and stay at Glyfada Beach Villas & Restaurant.