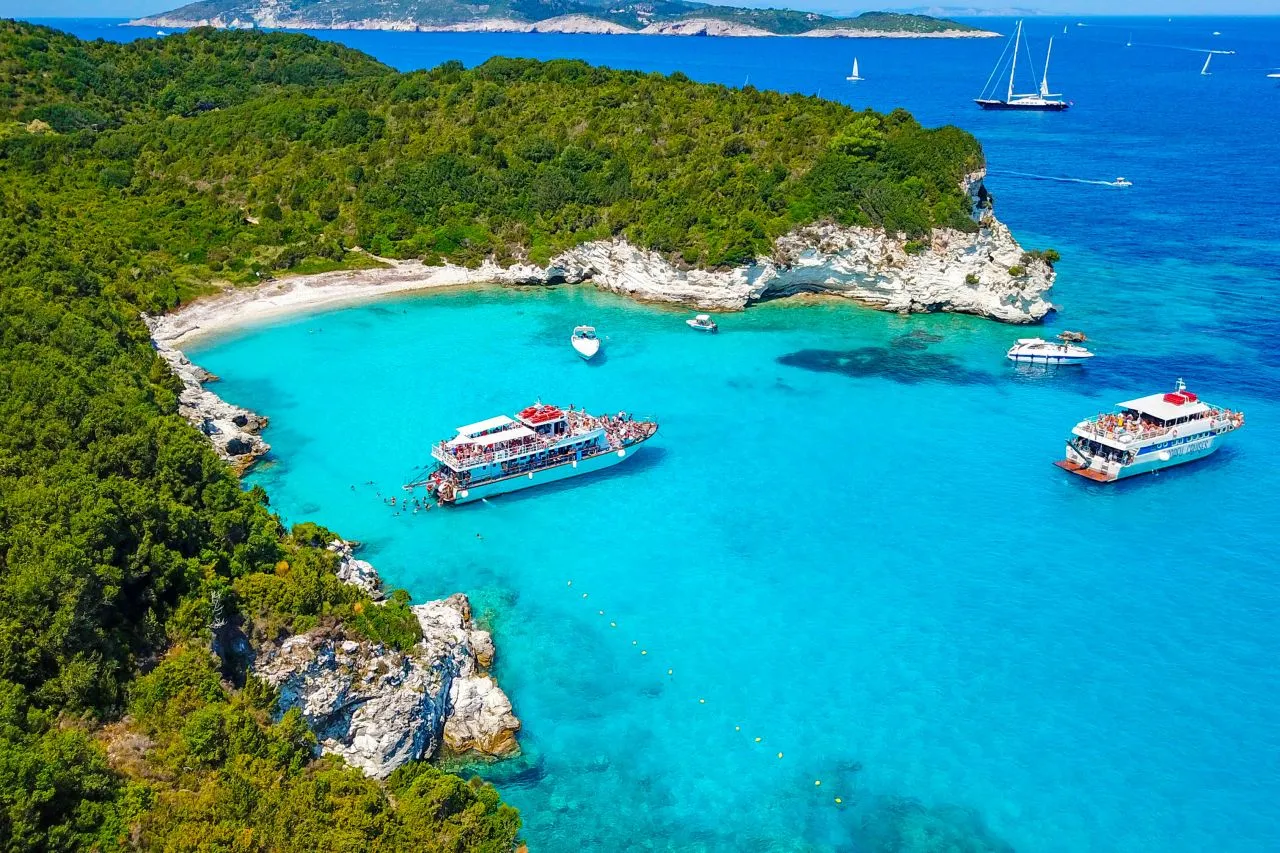 Antipaxos is a spectacular island in the Ionian Sea. This Greek island is close to its bigger sister Paxos but completely different. It is a lot flatter, it is densely grown with Mediterranean shrubs and vines, and above all, it has breathtaking beaches. The Caribbean has nothing on Antipaxos, and you don't need to travel halfway around the world to get there.
Speaking of getting there, how do you actually get to an island that can only be reached by boat from another island that only has sea connections? If that sounds complicated, don't worry. We've got you covered in this blogpost about getting to Antipaxos. See you soon!
Antipaxos is the smaller sibling in the Paxi family of islands, of which Paxos is the biggest and best-known. Antipaxos lies just 3 km south of Paxos and has a surface area of only 5 km squares. The island is hardly developed, with a few houses scattered across the island and some small-scale vineyards. A popular souvenir to take back from Antipaxos is one of the local wines!
But perhaps the most treasured souvenirs from Antipaxos are its photos. With beaches as white as snow, and waters that range from turquoise to aquamarine to cerulian, they hardly come more photogenic than this – at least not in Europe! So if you want to experience Caribbean-style beaches but don't fancy a 10-hour long flight, come down to the Ionian Sea and visit Antipaxos.
As legend has it, the Paxi archipelago was created when sea god Neptune grazed Corfu with his trident. With the idea to create a love nest for him and Amfitryti, this gesture created the islands of Paxos and Antipaxos. While Neptune may long be retired, we still get to enjoy these romantic islands.
How to travel to Antipaxos
Antipaxos has no airport, which makes getting to the island, especially from abroad, a little more time-consuming, but definitely not impossible. Antipaxos enjoys good sea connections and is frequently visit by commercial and private vessels. You could even get creative and visit Antipaxos from the air.
With its awe-inspiring beaches, Antipaxos is an easy sell for tour operators in nearby ports. Tour boats in Corfu and Paxos offer daytrips around Paxos and to Antipaxos. Often, Antipaxos is the lunch stop, in which passengers get the opportunity to take their Instagram selfies and play in the water. So let's face it – it can get crowded on Antipaxos, especially around lunchtime in summer.
If you're looking for a quick and easy way to see the best that Paxos and Antipaxos have to offer, this is a logical choice. But if you want to enjoy Antipaxos on your own schedule, without the hordes of tourists that take queues for a photo, look at one of the options below.
One of the most common ways of travelling to Antipaxos is by water taxi. These water taxis depart from neighbouring island Paxos, and more specifically from the town of Gaios. There are various captains that offer this round-trip, which will cost you less than € 20 per adult. Usually, these boats sail to Antipaxos around 10:00 to 11:00 AM, and will return at 2:30 or 7:00 PM. However, in summer this frequency increases. Be sure to check the signs next to the boats in the port of Gaios.
Why not sail to Antipaxos yourself? This is possibly the most enjoyable way to get to Antipaxos, as you don't depend on anyone for your transport. You set your own schedule and can go off the beaten track – to little coves and beaches that you will have all to yourself.
Greece is one of the world's top destinations for yacht charter. The nearest place you can charter a yacht is Corfu. On many other islands and on the mainlands you will find yacht charters. Antipaxos could be a very attractive stopover on a Greek island-hopping trip.
If you're looking for a quick, self-catered means of transport to Antipaxos, you can rent a small motor boat on Paxos. In the port of Gaios, you can find these small motor boats for rent, and prices should be around € 100 for a full day. You can easily take 6 passengers on board, so price-wise it works out even cheaper than the regular water taxi, while giving you a lot more freedom.
The fastest and most luxurious way of visiting Antipaxos is by helicopter. Various companies on the Greek mainland and on Corfu offer charter helicopters. There is no official helipad on Antipaxos so landing here is a true adventure! Fortunately there are a few flat landing areas to choose from, ranging from the beach to the trail that crosses the island.