Paxos & Antipaxos Events and Festivals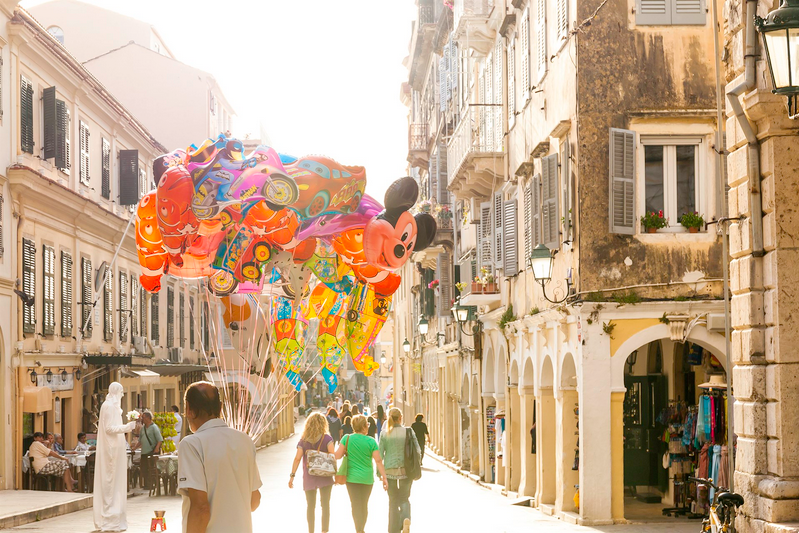 One of the wonders of Greece is how much their inhabitants like to party. With a big focus on family and friends, the Greek love to get together around a table full of delicious food and local wine. Events and festivals are great excuses to meet up, and they even manage to bring in people from thousands of kilometres away.
Whether you're in it for the authentic atmosphere of celebrating Greeks, or simply want to catch a bit of the local arts scene, often times your stay on Paxos or Antipaxos will coincide with a local event or national holiday. By the way, not every event is a happy one. Greece was actively involved in WWII, and one of the events in this article's list denounces the horrors of war and remembers the victims, both military and civilian.
Enough for this introduction. It's time to see what events might be going on when you visit Paxos and/or Antipaxos. If you're flexible, you might want to change your original plans to include one of these island celebrations. Happy holidays!
Patron saint day celebrations
Almost every town in the wide Mediterranean region has its own patron saint. And in the case of the Paxi archipelago that makes up Paxos and Antipaxos together with a few uninhabited islets and rocks, that patron saint is Charalombos. On the Orthodox calendar, this saint's day is on February 10th. Both Paxos and Antipaxos celebrate their shared patron saint on this day, and festivities include copious meals, late-night drinking, and dancing to any available tune.
The biggest annual festival in the Paxi archipelago is the Paxos Festival, formerly known as the Paxos Music Festival. What began as a series of classical concerts in the organizer's backyard, has now grown into a multidisciplinary arts festival that takes place over many weeks every summer. There is still a big focus on classical music, but you'll find visual arts and literature too.
The Paxos Festival draws visitors from near and far, with some of them returning every year. Thanks to the generous support of local government, venues include old school buildings and a old customs house. The main locations of these venues are Lakka and Loggos. Visiting this festival is free of charge
Bars and restaurants with live music
Paxos is not like Mykonos: there are no loud, blaring clubs. Neither are there huge concert venues or glitzy casinos. Nightlife on Paxos revolves around good food, of which there is plenty. People love to dress up for the occasion, and while they are at it, why not enjoy some of the island's live music performances?
You may catch a few local DJs at the places like Roxi in Loggos or Averto in Magazia, but if 'real' music is more your thing, head on over to Taxidi Bar, also in Loggos, for an authentic Greek night out. This is where the locals like to get together and strum their bouzoukis – that famous Greek string instrument with its recognizable sound.
On the 15th of August, the island honours the Holy Virgin. First things first: locals go to mass in the Monastery of the Assumption of the Virgin Mary in Gaios. After they spill out of the church and onto the street, the partying starts, with dancing till the late hours. Parking can become a challenge in Gaios and the island's few taxi will be fully booked. If you feel like joining in the party, prepare to stay sober or sleep on the town's beach.
The Paxos Reggae Festival was first held in 2015. It offers concerts, DJ sets, workshops and other activities aimed at bridging cultural differences and promoting respect. It is organized by a team of enthusiasts from Italy, the UK, and of course Greece. This festival usually takes place over a weekend in August, and is held on the main square of the island's capital – Gaios. With a dancehall area and drinks available, this festival is fast becoming a local favourite.
On the day of Greece's historical 'no' to Mussolini's ultimatum, people all around Greece take a moment of silence to commemorate the victims of World War II. In fact, Oxi Day (or Ochi Day as it's sometimes spelled) is celebrated all around the world since the Greek diaspora has spread the Greeks out far and wide. On this day, parades are held and wreaths are taken to war memorials.
The word Oxi means, in fact, 'no' and remembers the day the Greeks refused entry to the Italian army, which wanted to fortify strategic locations in the country. After this 'no', Greece was attacked in the early morning of October 28th, 1940. A few hours later, the Greeks took to the streets, shouting oxi.