Top 5 Traditional Greek Dishes
Surrounded by the crystal clear waters of the Mediterranean sea, Greece is a prime destination for holidaymakers from every corner of the globe. There are many wonderful aspects to enjoy in this idyllic haven, but when it comes to experiencing Greek cuisine, their traditional Mediterranean dishes are second to none.
Locals take pride in their abundance of versatile recipes made from a range of fresh ingredients. For this very reason, it's clear to those who visit the country that their delicacies are a unique product of influential change and progression over the years.
Whether you're staying on the mainland or venturing out to the cluster of islands found in the Ioanian sea, there are a few must-try recipes you won't want to miss out on!
What are Traditional Greek Dishes?
From simply delicious dips and appetizers to fresh seafood and classic grilled dishes, we will be running through some of the country's most popular culinary options on offer.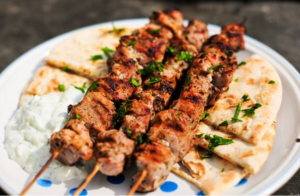 Souvlaki :  Grilled meat and vegetables make up a large part of Greek foods. There are many different ways to prepare and present these dishes, however, a frequent favourite is by far, Souvlaki.
This delicious skewer can be made up of any meat, from chicken to pork, or you can grill up a variety of vegetables such as peppers and aubergines for a meat-free alternative. It is often enjoyed alongside chopped tomatoes and raw onions in pitta bread with a spoonful of tzatziki to combine the flavours and add refreshing tang.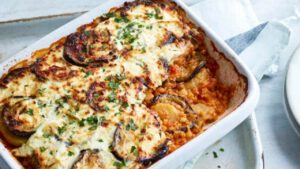 Moussaka: This is the iconic combination of minced lamb, fried puréed tomato, onion and garlic, with underlying hints of cinnamon and allspice, topped with layers of sautéed aubergine, small potatoes and the final touch of Bechamel Sauce and cheese.
Moussaka is found in tavernas all over Greece, however, locals also enjoy putting their own spin on the household favourite and cooking it at home.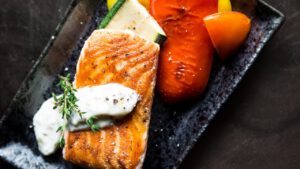 Fresh Fish: The harbour towns and villages across the mainland and Ionian islands are home to picturesque seaside tavernas, the perfect place to enjoy some fish fresh from the Mediterranean and Aegean Seas.
Fish dishes are easy to prepare and cook, served grilled with a side of classic greek salad. For a zesty twist, the fish is often finished with a lemon and oil dressing drizzled over the top!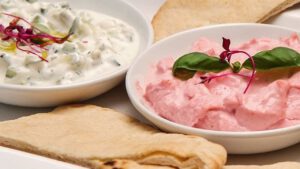 Taramasalata and Tzatziki: When thinking about classic Greek cuisine, don't underestimate the importance of these classic dips. Tzatziki is a blend of yoghurt, cucumber and garlic. People have described this as the taste of Greece, as the flavours encapsulate the midday sun glistening on the surface of salty waves.
On the other hand, we have taramasalata, which is a creamy blend of pink or white fish roe with a similar consistency and is a must for anyone visiting this part of the world. Despite the dip being mainly fish-based, it is surprisingly subtle and has a deliciously fresh taste! Enjoy these dips as an afternoon snack with pita bread, potatoes, chips or Breadsticks just to name a few accompaniments and pair it with a chilled glass of wine.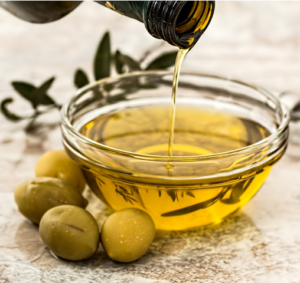 Olives: Olives are a staple starter in Greece and are found in many meals in the local tavernas either whole or as organic oil. As a starter or side, you will find them served in various different ways, some saltier and cured in a brine, whilst others are freshly picked from the tree.
There are stories of Athena gifting an olive tree to the city of Athens, hence the large association of this food within Greece. Despite this being an ancient story, the presence of olive trees is still very much here, with many of the villas in Paxos being emerged within Olive groves. Not only can you treat yourself to a salty appetizer, but you also take in the lush greenery of stunning groves intertwined with Greece's iconic white-wash villas.
When visiting this stunning country, keep an open mind to try a wide range of traditional foods as you may just find your new favourite dish! If you're looking for a relaxing getaway without the stress of venturing too far for delicious meals, our luxury villas in Paxos is also known for the delicious Greek traditional food served at 2 on-site restaurants which serve breakfast, lunch and dinner. It is not for nothing that the park is assessed with such a high customer rating! In short, enjoy…….