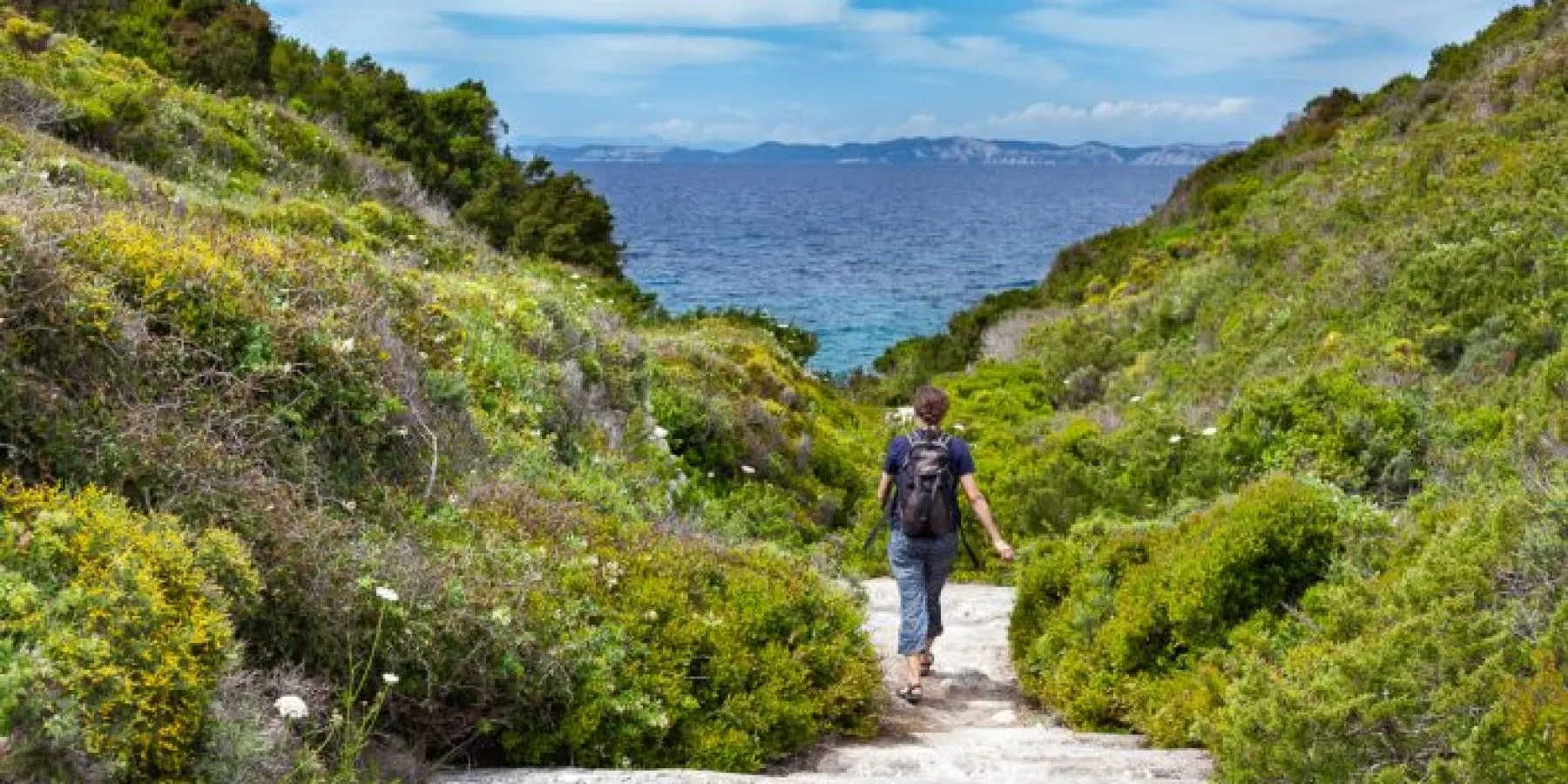 The beautiful, small island of Paxos is perfect for hikers who like to immerse themselves in green landscapes, see tall cliffs, and enjoy little bays to themselves. Come with us as we look at some of the best trails and enjoy the naturals attractions that make Paxos a place you will always remember.
Best time to hike on Paxos

Paxos offers pleasant hiking conditions from April to June and September to October, with moderate temperatures and fewer tourists. The summer months of July and August are hotter and more crowded, but you can still have a rewarding experience in the early morning. The winter months may bring rain and colder temperatures. Choose the moment that suits your preferences for an optimal hiking experience.
Arm yourself with the Bleasdale map, a comprehensive guide to the island's trails, as you set off on your adventure. This map is created by a long-time fan and regular visitor of Paxos, and is an invaluable resource for hikers like yourself.
Wander through ancient olive groves and experience the island's rich history. This moderate trail starts from the village of Magazia and takes you to the picturesque village of Fontana. Along the way, you'll encounter old stone walls, quaint churches, and stunning views of the countryside.
This trail takes you along the dramatic Erimitis cliffs, offering awe-inspiring views of the Ionian Sea. The return starts from the village of Boikatika and takes you only about one hour. A longer version could begin and end in Magazia, at the cosy Averto Day and Night Yard. Either way, the path leads to the secluded Erimitis beach, a perfect spot for a refreshing swim after your hike.
Explore the geological marvel of the Tripitos Arch on this rewarding trail. Begin in the island's capital Gaios and take the road that goes southeast, passing through small Agkathatika. At the end of this village, wind your way through the olive groves until you reach the impressive natural stone arch of Tripitos, a testament to the island's unique geology. Savor the panoramic views of the surrounding sea and landscapes.
It can get hot on Paxos, especially in summer. Dress in lightweight, moisture-wicking clothing to stay comfortable, and opt for sturdy hiking shoes or boots with good traction. Pack essentials like water, sunscreen, a hat, snacks, and a first aid kit. Don't forget your Bleasdale map, a camera to capture the memories, and a swimsuit for a dip in the turquoise waters.
Safety tips and trail etiquette

Paxos is relatively flat, and trails are suitable for occasional hikers. Still, you might want to inform hotel staff or local friends of your plans. Respect the environment by not littering, and avoid picking plants or trespassing local properties. Follow local customs and traditions by dressing modestly in villages and showing courtesy to fellow hikers.
So what are you waiting for? Book your holiday to Paxos and create memories that will last a lifetime. With the right preparation and knowledge of the island's trails, you're in for an unforgettable adventure.