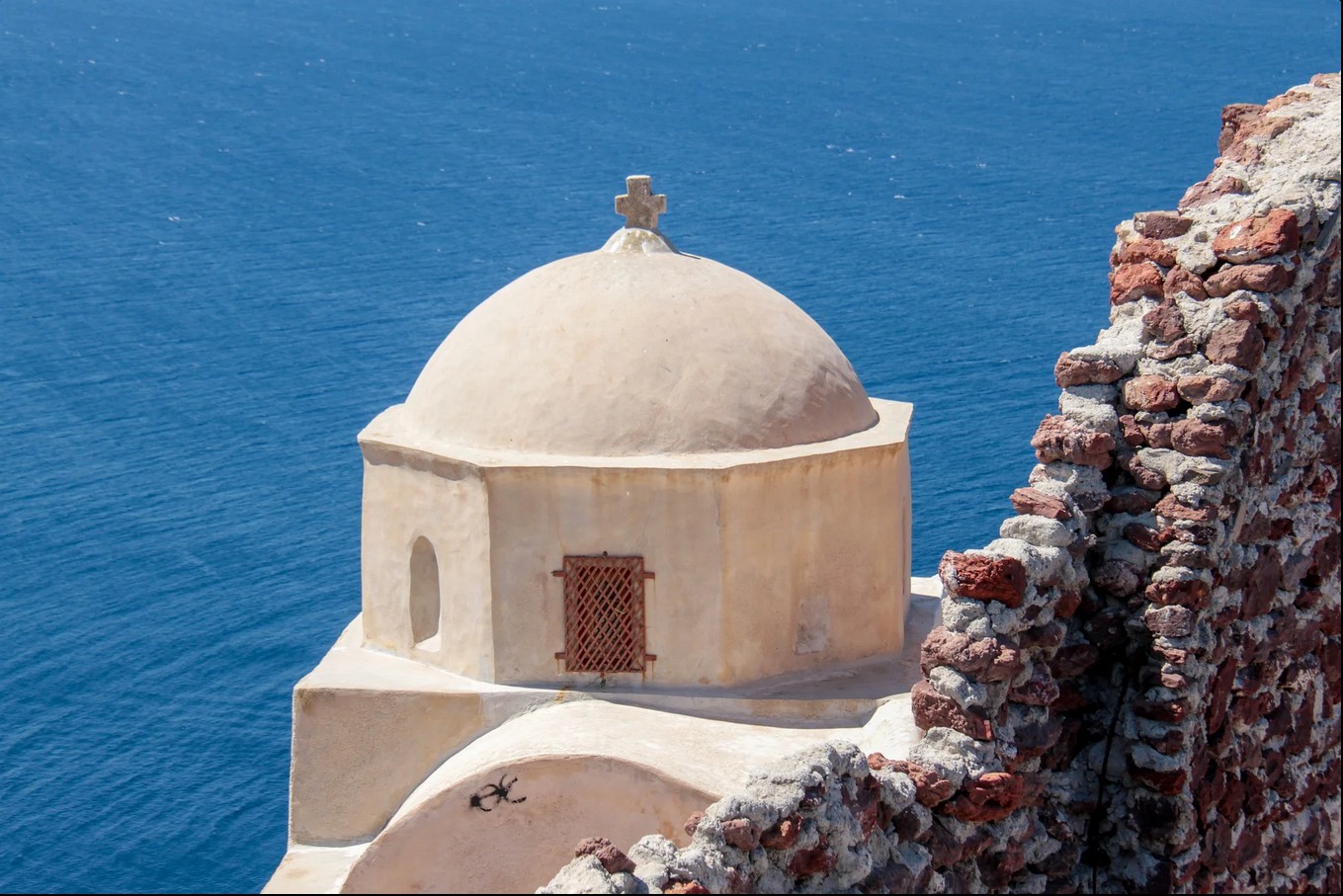 Welcome to Paxos, a small island in the Ionian Sea. Often overshadowed by its bigger brother, Corfu, Paxos receives only a handful of tourists, with the majority of those concentrated in the summer holidays. The fact that Paxos has no airport helps it stay relatively calm and quiet. The only way to get here is by boat – just like the 15th-century pirates did!
Yes, pirates have been a real threat to this peaceful island. That's why Agios Nikolaos castle was built to protect Paxos. And indeed, it helped the island to stay safe until 1797, when the French took over. Let's learn more about this historical gem.
Agios Nikolaos (pronounced ai-nikolas) means Saint Nicholas. Before the castle was given its name, it was called the Venetian castle of Paxos. That's right – Paxos was under Venetian rule from the year 1381. And before that, the island belonged to the Kingdom of Napels.
In the year 1423 the local Venetian lord with the wonderful name Adam Il San Ippolito requested permission of the Venetian Senate. He wanted to build a castle on Paxos, paid for by himself, in order to protect the island from pirate attacks. The site he had chosen for this construction was the islet in the harbour of Gaios. We now call this Saint Nicholas island, or, in Greek, Agios Nikolaos. From its high hill, the whole island of Paxos can be overseen, including it's erratic coastline and potential intruders.
Permission was granted and construction began. Adam Il San Ippolito never got to see the finished product, because the building period of this fortress stretched until the year 1510. That is an 87-year building period!
Design of Agios Nikolaos Castle
According to a research performed by an Italian architect Roberto Veneris, this fortress was inspired by designs made by Leonardo Da Vinci, which can be found in the libraries of Venice. While the roof of the castle is gone, most of the walls remain in place. You can still see the gunpowder magazine, the cannons, the observatory, some utility rooms, and a deep well that still holds water.
This was the first castle of Paxos. Those who know the island, will likely add: "And the only one!" But did you know that during the same period a castle was constructed in Lakka as well? Dialetos castle in Lakka was erected above the sandy beach of Harami. Unfortunately, this castle has been completely destroyed.
Other sights on Agios Nikolaos island
This green and lush islet is a nice getaway from the hustle and bustle of Gaios. Enjoy some shade between the Mediterranean vegetation and take some great photos of Gaios from its unique vantage points. Hike up the hill to see the castle, and after you've done that, make sure you visit the small chapel dedicated to Saint John. There is also an old windmill.
How to get to Agios Nikolaos?
As mentioned, Agios Nikolaos is an island off the shores of Gaios. Wherever you are staying on the island of Paxos, you can drive to Gaios within 20 minutes. Parking is easy – you may even be so lucky as to find a parking spot right on the water front, a few metres from Agios Nikolaos.
There is no bridge connecting Paxos to Agios Nikolaos, but the distance is short: about 50 metres. That is the length of an Olympic swimming pool. In fact, if you can swim, this would be a great way to refresh. Alternatively, you can ask one of the fishermen or excursion boat captions to take you across. And while this islet is hilly, you can perfectly get around on flip-flops or even on jelly shoes.
What to do after visiting the castle?
Okay, so you have visited Agios Nikolaos, and you're looking for something different to do? Why not stay in the area, since Gaios has a lot to see and do: in the summer months, you can catch an exposition or concert of the Paxos Festival. And any time of year, you can sneak into the pink Anilipsi church to admire its icons.
Gaios has a few pedestrian streets with some interesting shops and boutiques. There are bakeries with excellent coffee (both Greek and Italian), and many restaurants to choose from. This is a pleasant little town with seaside terraces that overlook the busy fishermen and captains.
Close to Gaios are a few irresistible beaches. Gianna Beach is in the harbour area, close to the statue of Georgios Anemogiannisand, and is family-friendly. Three kilometres from town is Kaki Langada Beach, which has its own taverna: Aeolus Beach Bar. This bar also hires sunbeds and umbrellas
This low-key island is perfect for a private stay. Hire a villa on Paxos so you can live your holidays on your own terms. In fact, alternatives like hotels are few and far between. That makes Paxos a perfect destination for those who value privacy and discretion. One excellent choice is Glyfada Beach Villas & Restaurant, a collection of small villas with direct access to two beaches.