Does Paxos have sandy beaches?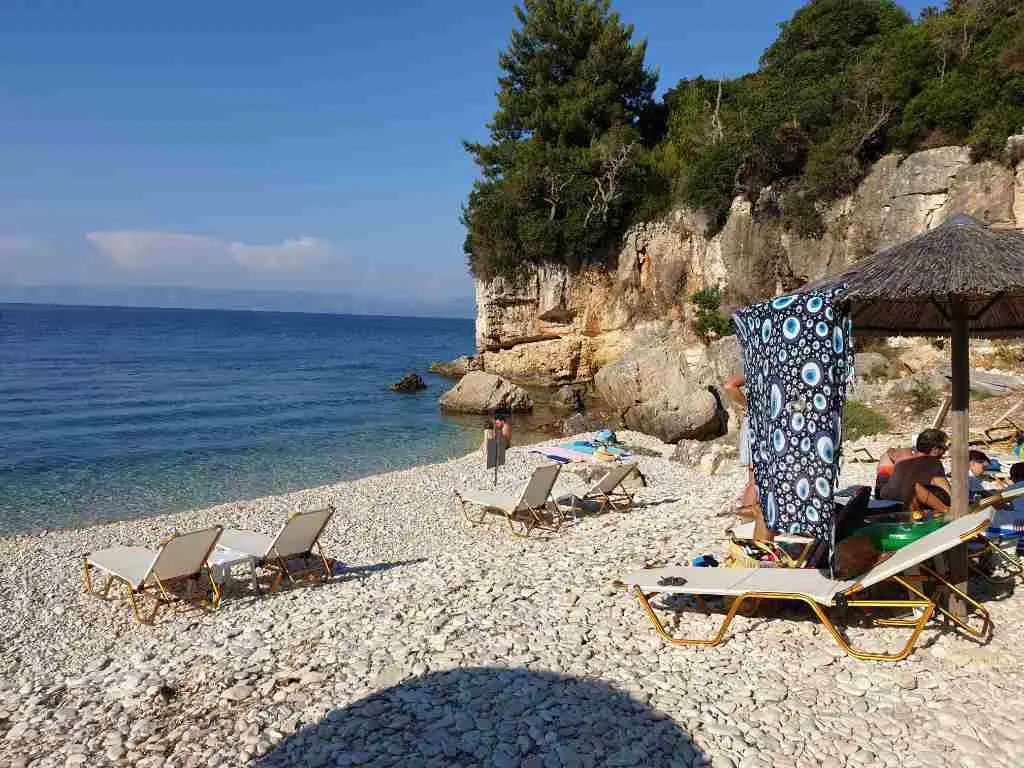 Paxos is the smallest of the seven main Ionian Islands, with an area of 25 square kilometres and a population of about 2,300 people. Paxos is known for its olive groves, its picturesque villages, its slow-paced rhythm of life, and its turquoise waters. But does Paxos have sandy beaches? That is a question that many visitors ask, since most of the beaches on the island are pebble beaches. In this article, we will answer your question and explore some of the best beaches on Paxos and its neighbouring island, Antipaxos.
Why are most beaches on Paxos pebble beaches?
The reason why most beaches on Paxos are pebble beaches is because the island is mainly made of limestone. Limestone is a soft rock that erodes easily by the wind, the waves and the rain. As a result, pebbles are formed and accumulate along the coastline. You can watch this process almost in real-time at Erimitis Beach, where part of the cliffs collapsed in a storm in 2007. The big boulders are quickly being broken up by the waves and the weather, creating a new pebble beach.
Pebbles, of course, have some disadvantages. They can be uncomfortable to lie on or walk on, they can get hot in the sun and they can be sharp for the feet. That is why water shoes or jelly shoes are a must-carry item when travelling to Paxos. Alternatively, you can buy some in the local shops.
On the other hand, pebble beaches also have some advantages. They are usually clean and clear, because there is no sand that makes the water murky. That makes them perfect for snorkelling! They are also quieter and less crowded than sandy beaches, because they attract fewer tourists.
Does Paxos have sandy beaches?: Let's get back to your question, though. You now know that pebble beaches are the norm on Paxos, but aren't there any sandy beaches? The answer to your question is yes, Paxos does have a sandy beach: Mongonissi. This beach is on the islet at the southeastern tip op Paxos. It is accessible by road and has a lively beach bar. Thanks to the many facilities, which include watersports, this beach is popular with families.
Other beaches have small patches of coarse sand, which make them more attractive for families with children. These include Monodendri and Levrecchio.
Enjoy the sandy beaches of Antipaxos
While Paxos may have few sandy beaches, you can be on one within an hour's trip from your accommodation on Paxos. How? By taking the sea taxi from the port of Gaios on Paxos. Antipaxos only about a 15-minute boat ride away, and has some of the best sandy beaches in Europe, with white sand and crystal-clear water that resemble the Caribbean. Some examples of sandy beaches on Antipaxos are:
Vrika
This is the first beach that you will see when you arrive at Antipaxos by boat. It has fine white sand and shallow water that is ideal for families with children. It also has two tavernas where you can have fresh seafood and try local wine.
Voutoumi
The second beach that pops into your view when taking the boat to Antipaxos. It has coarser sand and deeper water that is perfect for swimming and snorkelling. It also boasts a taverna where you can admire the view and enjoy traditional Greek food.
Mesovrika
A smaller beach that connects Vrika and Voutoumi. It has a mixture of sand and pebbles and calm water that is suitable for sunbathing and paddling.
Sarakiniko
Sarakiniko is a secluded beach that can only be reached by boat or by foot from Voutoumi. It has golden sand and turquoise water that create a stunning contrast with the green hills behind it.
Is Paxos a good destination for beach lovers?

Paxos has some spectacular beaches, but is not for those who are looking for miles-long stretches of fine sand. Paxos offers a variety of beaches, from pebble to sand, from busy to quiet, from organised to completely wild. Each beach has its own character and beauty, and they all share the common feature of having amazing water that ranges from light blue to deep green. Paxos is a small island with a big personality, and it will surely captivate you with its landscapes, cuisine, and cultural heritage.