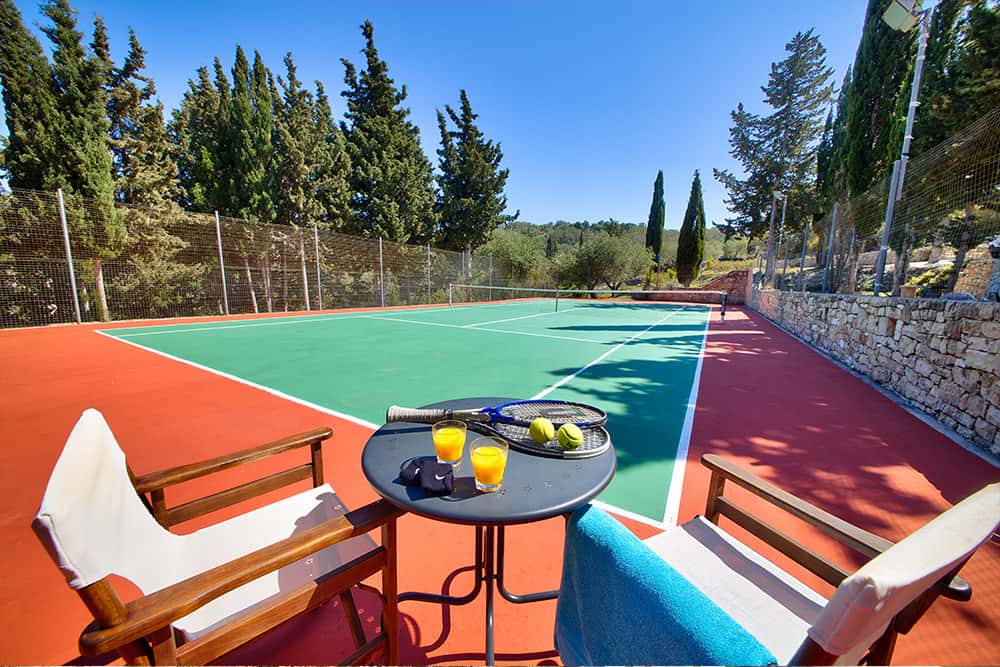 The island of Paxos, located in the Ionian Sea off the west coast of Greece, is known for its beautiful and varied landscape. The fact that it can only be reached by ferry has kept mass tourism away from the island, while attracting the more adventurous, off-the-beaten-track travellers.
There are a few reasons that make Paxos an ideal location forsports and outdoor activities. Some of the factors that make Paxos suitable for sports include:
Its Mediterranean climate is characterized by mild winters and dry summers. The weather is generally pleasant and conducive to physical activity. However, in the summer months, land-based sports are best performed before 10 AM because of the heat.
Its geography offers a diverse terrain, with a mix of smooth hills, shady olive groves, and a rugged coastline. In summer, its turquoise sea water is a pleasant 26 degrees.
The sports facilities and amenities on Paxos, while limited, are generally in good repair and very much open to non-residents. These include a tennis club, several gyms, and a number of rental shops where visitors can rent equipment such as bikes and kayaks.
Paxos also lends itself to organised sports events. Due to its relatively small population and limited accessibility, these events are few and far between. Some started out as annual events but were hampered by the pandemic and have since disappeared from the island's sports event calendar.
Paxos being an island, one of the most popular sports there is sailing. The island's crystal clear waters and steady winds make it an ideal location for this activity, especially in the summer months. While Paxos doesn't have an official yacht club, the island is often included in regional regattas and is a favourite stop for sailing flotillas.
For serious swimmers, there is the Gaios to Antipaxos marathon swim. This swim is about 6 kilometres and ends in the paradisical bay of Vrika with its white sandy beach and turquoise waters. This swim is traditionally held in August, which means it attracts swimmers from all over Europe.
Paxos offers diverse underwater landscapes, including rock formations, sandy bottoms, shipwrecks, reefs, seaweeds, and caves. The visibility in the water is often excellent, with visibility of up to 30 meters, making each dive a rewarding experience.
The eastern side of the island is shallower, while the western coast has steep cliffs that drop off into the sea and stronger currents. On the west side of the island, you can find rock formations such as Ortholitos, a pyramid-shaped rock that rises out of the water, and Tripitos, a natural stone arch.
Photosub events and free diving events have been held on Paxos and may return in the near future.
If you prefer to stay on land, the island of Paxos also has a number of options for hiking. The island's varied terrain and varied landscape offer many trails for hikers of all skill levels, taking you to sleepy fishing villages and amazing beaches. The island's trails include ancient stone paths near Erimitis and many small hamlets that are worth exploring. However, it is important to keep in mind that the island is hilly, so what may appear to be a short distance on a map may actually take you half a day to complete the round trip. There is plenty to see and do on the island that can keep you busy for a week.
One popular information source among hikers on Paxos is the Bleasdale Map. This map was created by a tourist named Ian Bleasdale, who has been returning to Paxos year after year for decades. The Bleasdale Map is known for its thoroughness, as it includes every landscape feature on the island to help hikers plan their routes in great detail. Additionally, the online route app Wikiloc, which also exists as a mobile phone app, is a great reference.
From time to time, a running event is organized on Paxos. These are usually promoted in Greek and, as such, attract fewer international competitors. The springtime is is the most popular time of year for running events. However, visitors to the island will discover that the beautiful countryside of Paxos lends itself to running year-round, and is a perfect training destination for events elsewhere. The island's trails offer runners stunning views of the gentle hills, mysterious olive groves, spectacular cliffs, and greenish blue waters
For those interested in cycling, the island also has a number of rental shops where you can rent a bike and explore the island's winding roads and trails.
Paxos' only tennis club is in Kourteka in the centre of the island. Its only court has a carpet surface and is used by locals and visitors. Friendly matches are scheduled, and also tennis federation tournaments are organised from time to time.