Sunset spots on Paxos Island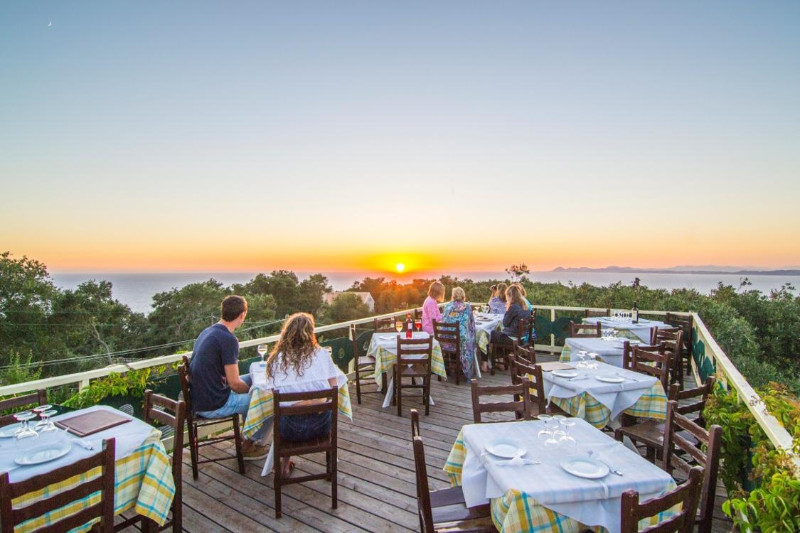 According to legend, Paxos was created by the Greek god of the sea, Poseidon, as a romantic getaway for him and his lover Amphitrite? According to legend, he broke off a piece of land from Corfu with his trident and made it into a beautiful island where he could enjoy some privacy and tranquility. Whether you believe in myths or not, there is no denying that Paxos is a special little island, among others because of its magical sunsets.
Where to watch the sunset on Paxos?
Want to experience those sunsets yourself? We've got you covered. In this blog post, we will share with you five of the best sunset spots on Paxos. Ranging from imposing cliffs to laid-back restaurants, you're sure to experience some unforgettable
Eremitis beach and restaurant

Eremitis is a secluded beach on the west coast of Paxos that faces the open sea. It was created after part of the cliffs collapsed in a storm. You can also enjoy a delicious meal at the Eremitis restaurant, which overlooks the beach and offers panoramic views of the horizon. The restaurant serves traditional Greek cuisine with a modern twist, using fresh local ingredients and organic products. You can choose from a variety of dishes, such as grilled octopus, lamb chops, or seafood pasta, and pair them with a glass of wine or a cocktail.
This trendy bar and restaurant in the village of Magazia offers a cosy and stylish setting for watching the sunset. You can sit on the terrace and enjoy a cocktail, a snack, or a full meal while listening to chill-out music and admiring the view of the sea and the sky. The bar has a wide selection of drinks, from classic cocktails to local spirits and beers.
Lakka is a picturesque village on the north coast of Paxos that has a small harbour surrounded by hills. You can stroll along the waterfront or sit at one of the cafes or tavernas and watch the sunset over the bay, reflecting on the water and the boats. The village has a lively and friendly atmosphere, with locals and visitors mingling, and a few interesting galleries and souvenir shops.
Antipaxos is definitely a must-visit destination during your stay on Paxos. Antipaxos is a tiny island south of Paxos that has two of the most beautiful beaches in Greece: Voutoumi and Vrika. They have white sand, turquoise water, and lush vegetation. You'd think you're in the Caribbean! You can take a boat from Gaios to Antipaxos and watch the sunset from either beach, or from one of the tavernas that serve local wine and food. The best spots to watch the sunset are the small and secluded coves at the south ends of these beaches, where you can enjoy some privacy and tranquility.
Paxos has plenty of options for dining and drinking after sunset. You can find restaurants and cocktail bars in Gaios, Lakka, Loggos, and other villages. Some of the best restaurants on Paxos are Four Seasons Restaurant in Gaios, which serves pizza and Mediterranean cuisine, Thymari Restaurant in Loggos, which offers international dishes with a Greek touch, and Taverna Pounentes in Lakka, which specializes in seafood and local delicacies. Some of the best cocktail bars on Paxos are Fanalino Restaurant Bar in Gaios, which has a cosy and elegant atmosphere, Roxi Bar Paxos in Lakka, which has stunning views and live music, and Manesko in Gaios, which has a friendly and lively vibe.