Pedal through paradise: cycling on Paxos Island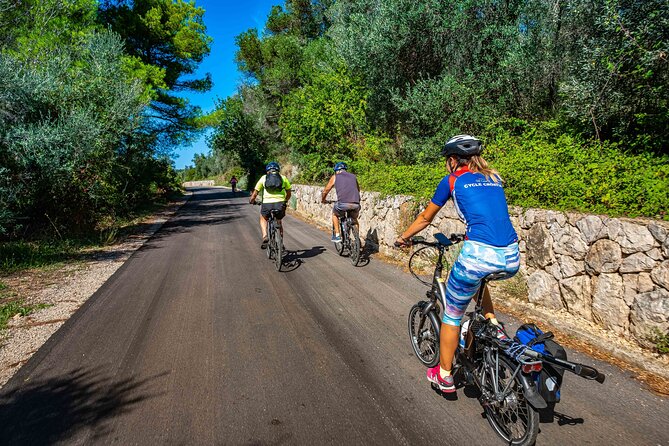 Well, hello there, cycling enthusiast. If you haven't yet considered a visit to the beautiful and serene island of Paxos, Greece, it's high time you did. Because one of the best ways to experience this hidden gem is by bike. This small Greek island in the Ionian Sea has a variety of landscapes and sights, and its hills are relatively low, making it a cyclists' paradise. Ready to hop on and explore? Let's pedal along some of Paxos' most scenic cycling routes!
Starting from the picturesque harbor town of Gaios, this scenic route takes you along the coast towards Loggos. The breathtaking coastal views and charming traditional villages will make you want to stop for countless photo ops. Don't forget to pause and savor the laid-back atmosphere of these idyllic spots!
Pedal your way from Loggos to Lakka and immerse yourself in the lush landscape of olive groves and towering cypress trees. At only 5 kilometres, you may want to extend this route to Dalietatika and Aronatika, effectly turning this into a loop. You'll come across secluded coves and inviting beaches that simply beg for a refreshing swim. Trust us, you'll want to capture every moment on camera!
Route 3: Coastal Path - Mongonissi Beach to Kipiadi Beach
Craving the perfect mix of rugged coastline and crystal-clear turquoise waters? This route has got you covered! Cycle along this 11-kilometre coastal roads between Mongonissi Beach and Kipiadi Beach, stopping in the capital Gaios for a coffee, or at a charming beachside tavernas for a taste of local cuisine. Warning: you might never want to leave!
Route 4: Inland Loop – Exploring the Olive Groves
For a change of pace, try this inland loop that meanders through Paxos' lush olive groves and fragrant herbs. You'll be mesmerized by the traditional stone architecture, evoking the island's rich history. Pro tip: pack a picnic and enjoy a leisurely lunch among the groves.
Discover the unspoiled beauty of Paxos' western coastline with the Erimitis Loop. Starting from the village of Magazia, this route takes you on a picturesque journey past dramatic cliffs and through verdant pine forests. As you pedal along, keep an eye out for the spectacular Erimitis Beach and the nearby Erimitis Bar & Restaurant, where you can enjoy a refreshing drink while soaking in stunning sunset views.
If you love cycling but don't want to bring your bicycle on the ferry, you can rent one at Fougaros Paxos Rentals in Gaios. This bicycle rental shop works with the Cube and Ideal brands, and has mountainbikes as well as electric bicycles. This shop can be reached at phone number +30 6973995809 or +30 6983019289.
Practical tips for cycling on Paxos
While cycling on Paxos, helmets are not only recommended – they are compulsory in Greece. While local traffic is generally respectful of cyclists, it's wise to stay cautious, as there are no designated cycling lanes. In other words, you will be sharing the road with cars, lorries, motorbikes, and mopeds. You may even encounter the odd donkey cart!