Paxos Island's traditional cuisine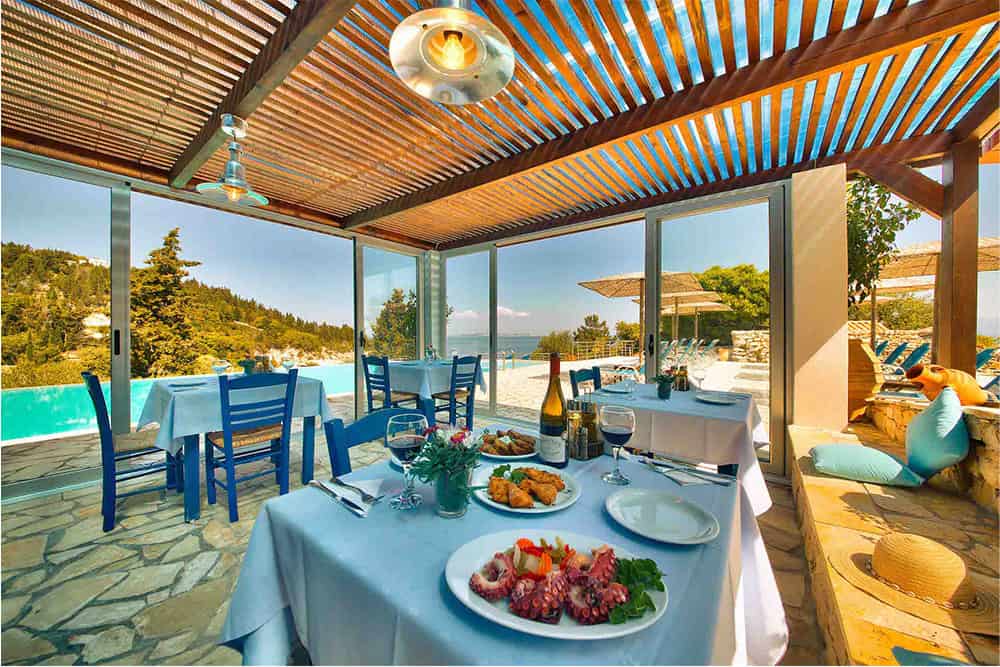 Paxos is a small and charming island in the Ionian Sea, with a rich culinary heritage influenced by Venetian, Ottoman, and British rule. The island's cuisine reflects its natural resources and its history, using local ingredients such as olive oil, cheese, seafood, herbs, and honey. In this blogpost, we will explore some of the aspects of Paxos cuisine that make it unique and delicious.
One of the most important products on Paxos is olive oil, which is produced from the thousands of olive trees that cover the island. The olive oil has a fruity and peppery flavor and is used in almost every dish. Another product that Paxos is famous for is cheese, especially feta cheese made from sheep's milk. Paxos also produces its own wine, honey, pasta, nuts, and macaroons. These products are often sold at local markets or shops where you can taste them before buying.
Traditional dishes and drinks
Paxos has many traditional dishes that showcase its gastronomic diversity and creativity. Some of these dishes are:
Bourdetto
A spicy seafood-and-tomato stew that can be made with different kinds of fish or shellfish. It is seasoned with paprika, salt, pepper, and lemon juice and served with bread or potatoes.
Kokoras me makaronia
A rooster braised in red sauce that is cooked slowly until tender. The sauce is made with tomato paste, onion, garlic, cinnamon, cloves, and bay leaf and thickened with grated cheese. The dish tastes great with potatoes or rice.
Sofrito
A dish of meat (usually beef or veal) cooked in a sauce of garlic, parsley, vinegar, and white wine. The meat is cut into thin slices and fried lightly before simmering in the sauce. This dish is usually served with pasta or rice.
Pastitsada
A dish of roasted meat (usually chicken or beef) cooked in a sauce of tomato, onion, garlic, cinnamon, bay leaf, and red wine. The meat is marinated overnight before roasting in the oven until browned. The sauce  is reduced until thickened  and poured over the meat. Rice or pasta are usually served with pastitsada.
Planzeta
A kind of baklava that is made with layers of thin pastry filled with nuts (usually almonds or walnuts) and honey. The pastry is cut into diamond shapes and baked until golden. The planzeta is sprinkled with powdered sugar and cinnamon before serving.
Baklava
A sweet pastry made with layers of phyllo dough, chopped nuts, and honey syrup. The nut filling can vary, but it's usually made with walnuts or pistachios. Baklava is a common dessert throughout Greece and the Middle East.
Sfougato
A cheese pie made with mizithra cheese, eggs, and sugar. It's similar to a quiche and is often served as a savory breakfast dish, but the addition of sugar makes it a sweet dessert as well.
Melopita
A sweet cheesecake-like dessert made with honey, flour, cheese, and sometimes cinnamon. It's a popular dessert in many parts of Greece and is especially common in the Ionian Islands.
Avgoustiatis
Be sure to try this red wine made from the Avgoustiatis grape, which is native to the Ionian Islands. It has a rich and fruity flavor with notes of cherry and raspberry.
Restaurants with traditional cuisine

Paxos has many restaurants where you can enjoy authentic and delicious food. One of these is Erimitis Beach, a seaside restaurant with gourmet cuisine and cocktails. It is located west of Magazia and offers a romantic setting overlooking the cliffs at Erimitis Beach and the Ionian Sea. You can try a mix of local and national dishes such as grilled octopus, lamb chops, sea bass, and chocolate souffle.
Carnayo is a traditional stone-and-wood restaurant with tasty mezze platters. It is located in the outskirts of the island's capital Gaios and has a cozy garden courtyard, surrounded by olive trees. Here, you can sample dishes such as octopus with fava beans, courgette-and-feta fritters.
Another great place to eat is Ben's Bar, located on Monodendri Beach. It's a relaxed and friendly spot with a stunning view of the sea. You can enjoy sunbeds on deck or on the beach, and swim in the clear water. The food is delicious and varied, with vegetarian, vegan and gluten-free options available. They serve lunch and after-hours drinks, but not dinner. The lounge music adds to the atmosphere.