Why Paxos is the Go-to Destination for your Holiday in Greece?
Paxos
It goes without saying that Greece has a huge variety of stunning locations for individuals to visit when looking for the perfect getaway, however, Paxos radiates a charm that is unique to its Venetian-inspired architecture and remote beaches. This wonderfully isolated Ionian island is located just 14 kilometers south of Corfu, allowing guests to be free from the commercial hustle of the Greek mainland.
Whilst this obscure destination may seem more hassle than it's worth, you can rest assured that getting here is easier than it sounds. Although the 2-hour boat ride across the Ionian sea may be a deterrent for some, the breathtaking views and air of serenity that await you at the end of your journey is well worth it. For those who are less accustomed to the laid back nature of small-town charm, you may be struck by the overwhelming sensation of tranquillity. Aside from the handful of visitors that descend upon the secluded shores, you will be predominately surrounded by locals throughout your stay here. They are so welcoming, you are bound to feel at home straight away!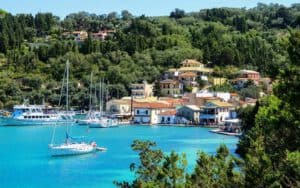 Paxos is only seven miles by three, so it is entirely possible to explore each and every corner by foot, bike, car or boat. There is something to suit each individual here, with our villas accommodating a variety of amenities for guests to enjoy. Our resort, created on a 70.000 m2 landscape, comprises two swimming pools with sunbeds and loungers for those who enjoy soaking up the sun by the water, a small museum where guests can find out more about traditional island living, a tennis court, access to two beautiful beaches and the crystal clear water from the Ionian Sea named Monodendri and Glyfada Beach and two restaurants renowned for their authentic Mediterranean cuisine.
This holiday destination is far from the partying atmosphere you will find in Corfu or Mykonos, with nightlife involving guests and locals taking in the surroundings over a few drinks in the local tavern. Despite this not being the picture many had in mind when looking for a Greek-getaway, it ensures that Paxos upholds its reputation for complete relaxation.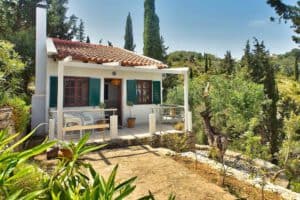 Whether you're looking to escape the noise of everyday life for a couple of days or would like to book a villa for a two-week family vacation, get in touch today and find out which accommodation would best fit your requirements!