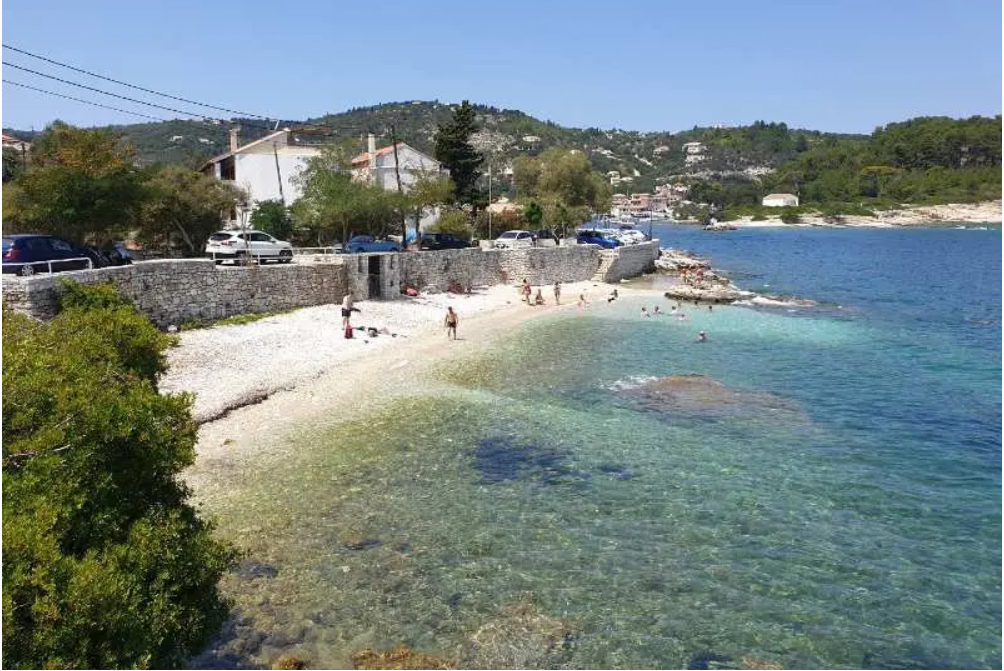 When your thoughts float to Greece, do you think of a thick, foamy cup of coffee on a terrace table by the port? Do you imagine fishing boats bobbing on a deep blue sea? Or, better still, can you see yourself jumping into the refreshing, turquoise water? Giannas Beach offers exactly these things. A small beach in a lively island capital, this is a favourite with locals and visitors to Paxos. Let's get to know Giannas Beach better, shall we?
What to expect of Giannas Beach
This beach is one of the smaller ones on Paxos. Because it's so easy to reach, Giannas Beach is one of the island favourites. It's only about 50 metres long so on a hot day, it can get pretty crowded with families and their beach gear. Fortunately, a different beach is never far away. To get to Giannas Beach from the main road, you will have to take the stone steps down.
This beach is made up of small pebbles, and these can be a little uncomfortable to walk on. In fact, you'll see that most people here like to wear jelly shoes to protect their soles. The water itself is very inviting. Dazzling shades of turquoise, aquamarine, and azure just beg for you to jump in the water.
For the kids, the rocks to the left are a great source of fun and playtime. These rocks form a natural rock pool where the water warms up to a pleasant temperature. Undisturbed by the waves, todllers can splash around while their parents take a refreshing dive in the Ionian Sea.
While the stereotypical Greek beach is equipped with a taverna, the truth of the matter is that there is simply no space for this on tiny Giannas Beach. There are, however, a few restaurants and tavernas across the road. These are great places to take a break from the hot sun and enjoy some soul-nourishing food. Also, there is a shop with beach products, like towels, beach spades, snorkel gear, plus of course drinks and snacks.
Location of Giannas Beach
Where is Giannas Beach exactly? This small beach is easy to find. Head to the capital of Paxos, Gaios, and walk to its port. This is where the fishing boats, the excursion boats, and the ferries go about their business – you've undoubtedly been there before. Fortunately it's very easy to park in Gaios or even get there with the public bus service. When in the port, face towards the water and turn right. Walk until the road makes a bend and you see the statue of Georgios Anemogiannis. Continue a few metres onwards and you'll see the rocks turn into a tiny little bay. You've just reached Giannas Beach!
As they will tell you anywhere in the Mediterranean (and we include Greece here), the best time to visit is in spring or late summer. Think May, June, September, or even October. This way, you not only avoid the hot weather, but also the crowds. Of course, a family with children that depends on school holidays, won't have this luxury. But then still, there are better times and less-ideal times to visit Giannas Beach. Generally, this beach can get crowded at midday. If you go in the morning though, roughly before 1 PM, you are sure to have a great experience.
Getting to Gaios and Giannas Beach
You will most certainly have travelled through Gaios on the way to your holiday accommodation, but how do you find your way back there? On Paxos, this is easy, since all roads lead to Gaios. From the southern tip of the island, at Mongonissi, it's a 4-kilometre drive that takes about 12 minutes. From Lakka in the north, the 9 kilometres can be completed in about 20 minutes. And if you're staying in the Longgos area, it's a 17-minute drive to get to Gaios. If you're lucky, you can park your car right by the waterfront, just a pebble's throw from Giannas Beach. Enjoy your beach time!
This small beach is right in the centre of Gaios, the picturesque capital of Paxos. Paxos in itself is a calm and quiet island, with a population of about 2,500. Of this population, about 500 reside in Gaios, and this gives you a good idea of how small-scale things are on Paxos.
Gaios, the island's capital, is well-worth a visit. In fact, you will most likely arrive to the island of Gaios. It is famous for its pedestrian streets, town squares, its church, and of course the Venetian-era castle remains on the islet that shelters the bay. Agios Nikolaos was built in honour of Saint Nicholas between 1423 and 1510. It defended the island against pirates and, understandably, it is in ruins now. However, there are still some interesting remains to be found. You also get a great view of Paxos from the hilltop.