Boating tours around Paxos Island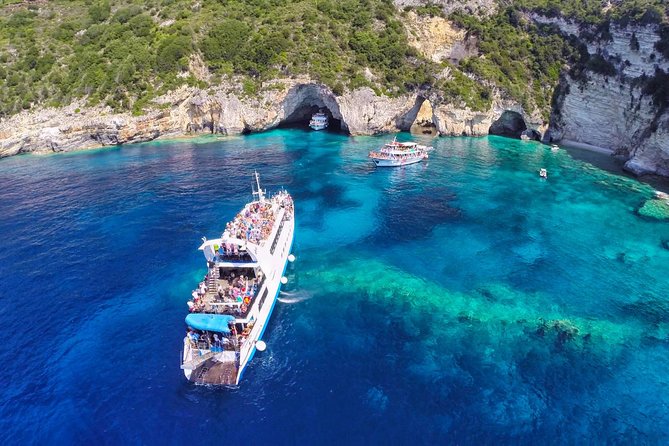 If you think Paxos is only about quaint villages and olive groves, think again. This tiny island in the Ionian Sea has a lot more to offer than meets the eye. Especially if you're willing to venture beyond the shore and explore its stunning coastline and hidden gems. And what better way to do that than by taking a boating tour around Paxos and its neighbouring islets?
Boating tours are not only fun and relaxing, but also a great way to discover places that are inaccessible by land. You can admire the dramatic cliffs and caves, swim in crystal-clear waters, visit charming harbours and beaches, and enjoy the views of the lush green landscape. Plus, you can pretend to be a pirate for a day. Arrr!
But before you set sail, you need to know a few things about boating tours around Paxos. This blog post will give you some tips and advice to help you plan and enjoy your nautical adventure.
There are different options for boating tours around Paxos Island, depending on all kinds of factors, such as your budget, preferences, and skills. Here are some of those options available to you:
If you have a valid boat license and some experience, you can rent a boat and be your own captain. You can choose from different types of boats, such as speedboats, motorboats, or sailboats, and decide your own itinerary and pace. You can also bring your own food and drinks, or stop at any taverna or beach bar along the way. Renting a boat gives you more freedom and flexibility, but also more responsibility. You need to check the weather conditions, follow the safety rules, and take care of the boat. The prices vary depending on the type and size of the boat, the season, and the duration of the rental. You can find several boat rental companies on Paxos, such as Spyros Boats in Loggos or Katerina & Lefteris Boat Rental in Gaios.
If you don't have a boat license or you prefer to let someone else do the driving, you can join a group tour with other travellers. You can choose from different routes and destinations, such as Antipaxos Island, Mongonissi Bay, Lakka Harbour, or the Blue Caves. You can also enjoy some swimming and snorkelling stops along the way. A group tour is usually cheaper than renting a boat, but also less flexible. You need to follow a fixed schedule and share the boat with strangers. You may also have less time to explore each place or have to deal with crowds at popular spots. You can book a group tour with various operators on Paxos, such as Panos Boats & Trips in Loggos and Paxos Classic Cruises in Gaios.
Hiring a skipper or a guide
If you want to have the best of both worlds, you can hire a skipper or a guide to take you around Paxos on a private boat. You can either rent your own boat and hire a skipper to drive it for you, or book a boat with a skipper or a guide included. This way, you can enjoy the comfort and privacy of your own boat, but also benefit from the expertise and knowledge of a local professional. You can customize your itinerary according to your interests and preferences, and get insider tips and stories about each place. Hiring a skipper or a guide is more expensive than joining a group tour, but also more rewarding. You can find skippers and guides on Paxos through platforms like Captain Nikos in Loggos.
Paxos has many beautiful destinations and sights that you can visit by boat. One of them is Mongonissi Bay. Mongonissi is an islet connected to Paxos by a narrow strip of land that forms a natural bay. It's a popular spot for boating tours because of its calm waters and sandy beach. You can also find a taverna, a beach bar, and a water sports center on the islet.
Lakka is a picturesque village on the northern tip of Paxos that has a natural harbour surrounded by pine trees and olive groves. It's a great place to moor your boat and explore the village, which has many shops, cafes, and restaurants. You can also take a walk to the lighthouse or the old windmill, or swim in the nearby coves.
Then there is Loggos, a charming village on the east coast of Paxos that has a small harbour with colourful fishing boats. It's a quiet and relaxing place to visit by boat and enjoy the local atmosphere. You can stroll along the waterfront, visit the old church, or sample some of the delicious seafood at one of the tavernas.
You may be familiar with the port of Gaios, since this is where ferries to Paxos arrive. This port is protected by two islands: Agios Nikolaos and Panagia. It's worth visiting the museum and the castle, or shop for souvenirs and local products.
On the west coast of Paxos, you can find some amazing caves and the Tripitos Arch. The caves are natural formations that have been carved by the sea over thousands of years. You can enter some of them by boat and admire the colours and shapes of the rocks. The Tripitos Arch is a spectacular rock bridge that is over 20 metres high. You can sail under it or walk over it if you dare. It's a sight you don't want to miss.
A boating tour of Paxos is not complete without a visit to neighbouring Antipaxos. This small island south of Paxos is famous for its stunning white-sand beaches and turquoise waters. It's like a slice of paradise on earth. You can anchor your boat at one of the beaches, such as Voutoumi or Vrika, and enjoy swimming, sunbathing, or snorkelling. Wine is produced here, so make sure you try a glass at one of the beachside tavernas.
Your boat is waiting for you

Boating tours around Paxos are a wonderful way to experience the island from a different perspective. You can see amazing places that you can't reach by land, enjoy the beauty of nature and culture, and have fun with your friends or family. So what are you waiting for? Book your boating tour today and get ready for an unforgettable adventure!