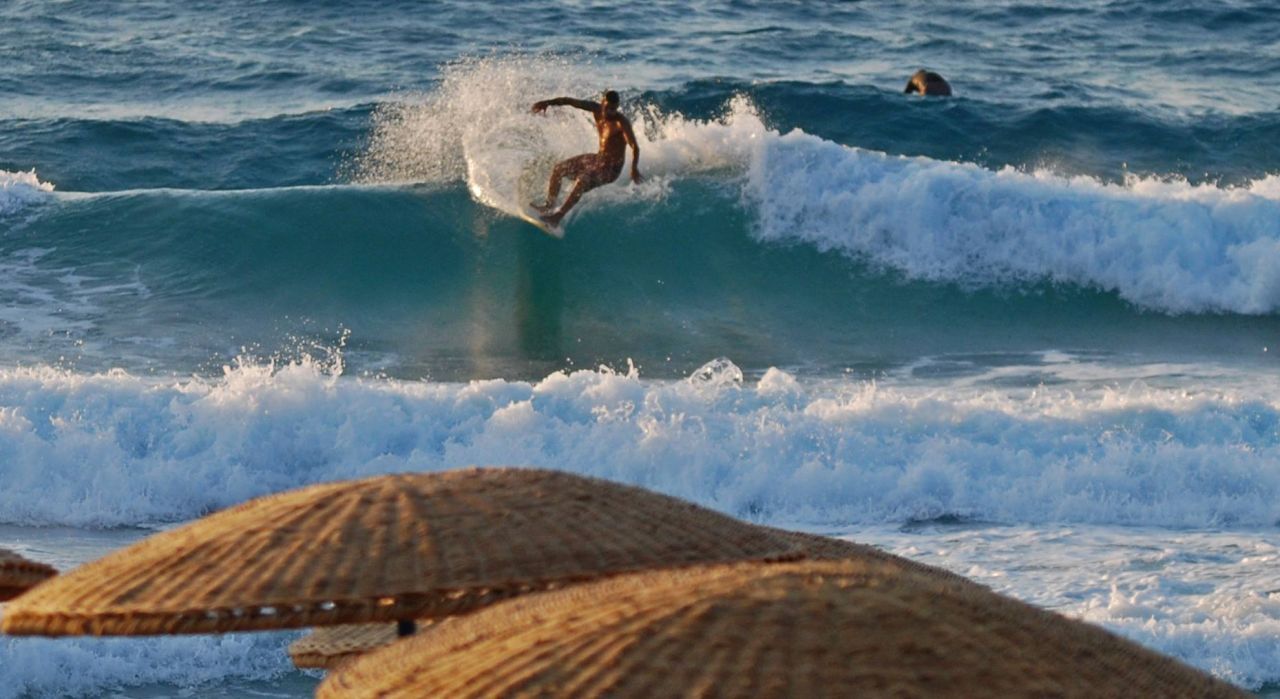 Surfing in Greece? Yeah, you heard right! While most people might think of Greece as a paradise for windsurfing, there are actually some sick spots for catching waves, too. And we're not talking about just any waves, but sweet, gnarly waves that are perfect for shredding. In this article, we're gonna take you on a surf trip and show you the best places to catch a wave in Greece. So grab your board and get ready for some seriously waves in one of the most beautiful countries in the world.
We all love to surf in our board shorts or bikini, but advanced surfers will find that surfing in Greece is a wetsuit affair. Why? Because the best time for surfing in Greece is the winter, that is from November to March. That's when wind and groundswells from the Atlantic come through and create waves on beaches that are oriented towards the west and south. Just
On the other hand, if you're a beginner, summer time is a good choice. The Meltemi winds that blow from June to October create little waves that allow you to get familiar with this water sport.
Wondering where the best surfing in Greece can be experienced? Let's check these spots out. Can you combine two or three of them in one trip? You bet. Greece has an extensive ferry network and lots of domestic flights to choose from.
Remember the Meltemi winds we talked about before? Like 'em or not, they bring a refreshing coolness to sweltering summer days. They are also perfect for beginning surfers. Tinos, right across the water from Mykonos, is a good place to start. In fact, Kolymbithra bay is pretty famous for its summer swells and you can rent big, stable boards at the taverna right on the beach.
This is a classic surf spot that's great for all skill levels. With its long, rolling waves, it's a great place to perfect your technique and have a ton of fun in the process. It's also a super chill place with a laid-back vibe, so you can really relax and enjoy the surf scene here.
This beautiful island is not just a popular tourist destination, but also a top spot for surfers. With its clear waters and turquoise beaches, it's a true paradise for surfers of all skill levels. Whether you're looking to shred some big waves or just cruise on some smaller ones, you'll find the perfect spot in Paros.
True, Paxos is better-known for its windsurfing possibilities than its spots for traditional surfing. But that isn't to say you can't surf on our chill little island. Generally, you'll find the better waves on the more exposed southwest side of the island, where you'll find a mix of beach breaks and reef breaks, for example near Tripitos Arch.
If you're a surfer visiting Greece and you want to hit the waves, you have the option of bringing your own surfboard or renting locally. Both options have their pros and cons, so it really depends on your personal preference and situation.
Bringing your own surfboard has the advantage of allowing you to use a board you're familiar with and comfortable using. This can be especially helpful if you're an experienced surfer who knows what kind of board works best for you in different conditions.
On the other hand, renting a surfboard locally has the advantage of being more convenient and cost-effective. You won't have to worry about traveling with a bulky surfboard, and you'll have access to a range of boards to choose from. Additionally, many surf rental shops in Greece offer high-quality boards that are well-maintained and suitable for the local conditions. It also allows you to try out different boards.