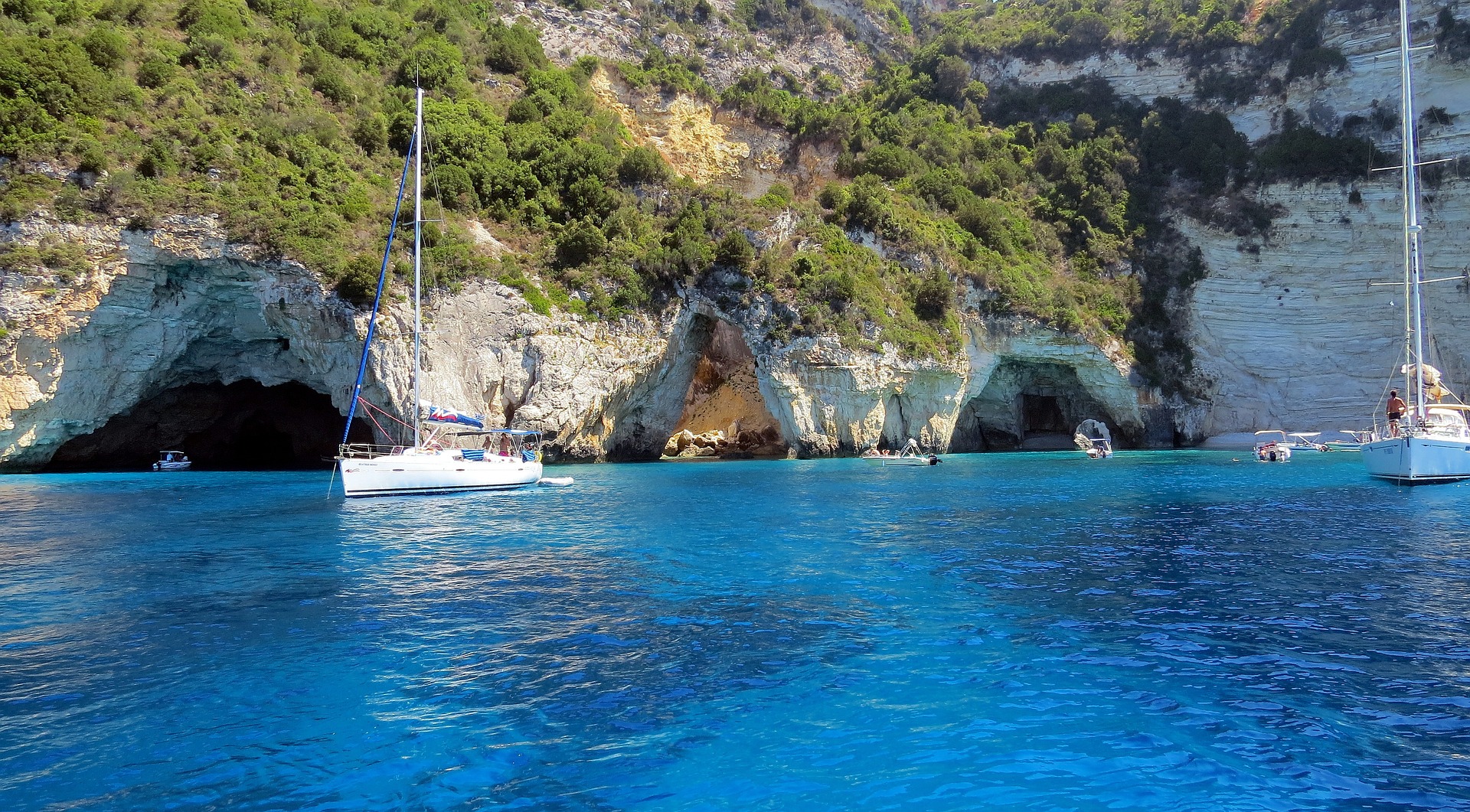 Paxos, a Greek island in the Ionian Sea, is a well-kept secret, thanks in part to its relatively isolated location. Combined with the deep blue, calm seas surrounding the island, travelling to Paxos by boat is a very tempting prospect. A sea cruise to Paxos is, in fact, the only way to reach this island. Let's discover which cruises there are to this fascinating little island.
Paxos is a special island. Its location in the Ionian Sea and the fact that it can only be reached by boat, keep it far from the beaten track. That makes Paxos ideal for those who appreciate peace and calm. In fact, it even attracts famous people like Angelina Jolie and Keanu Reeves, who appreciate Paxos for the privacy it offers.
Like other islands in the area, Paxos is filled with olive groves. To get to its many beaches, you often have to cross these plantations. A sea in hues of aquamarine and teal waits for you, and the rocky bottom ensures a Caribbean-style underwater visibility. On Paxos, the beaches are hardly developed. Sure, you'll find a taverna here and there, but that's about it. Silence and bliss abound.
Paxos is a favourite port of call for captains and sailors, who enjoy the Ionian Sea in the summer months. When they mix and mingle with the local fishermen, the tiny ports of Paxos come to life. This can be very entertaining to watch from the terraces along the water.
Paxos gets most visitors on day trips from neighbouring Corfu. At only 7 nautical miles, this distance is easily crossed and allows for day cruises to Paxos. Most of these will not only circle the island, but moore in the capital of Gaios where the quaint alleyways and the Venetian castle are well worth a visit. Some day cruises to Paxos also stop at Lakka in the north of Paxos, a fishing village and yachties' favourite by a sheltered and deep natural bay – definitely one of the island's main attractions.
These cruises to Paxos leave either from Kerkyra, the capital of Corfu, or Lefkimmi. As Lefkimmi is a lot closer to Paxos than Kerkyra, the tours that depart from there are more value for money. You spend less time sailing to Paxos and Lefkimmi itself is worth a visit, too. Make sure to try the food at Altro Cafe!
Day cruises to Paxos usually include a trip to neighbouring Antipaxos. This islet of only 5 square kilometres lies just 3 km south of Paxo. It is hardly developed, and has some small-scale vineyards and only a few houses scattered across the island. Its main attraction, however, are its beaches. They are as white as snow, and have waters that range from turquoise to aquamarine. Beaches don't come more photogenic than this and they are often voted the most beautiful beaches in Europe.
Ferry from the Greek mainland
Paxos can also be reached by boat from Igoumenitsa on the Greek mainland. The Agia Theodora of ferry line Kerkyra Lines makes the crossing once a day, which takes one hour and twenty minutes. This vessel can hold over 700 passengers and fits up to 160 vehicles.
Admittedly, ferry boats are no cruise ships. The Agia Theodora has no swimming pools and cinema like you may find on a real cruise ship, but it does have a bar and fantastic views from the deck. Plus, it allows you to bring your car or campervan across to Paxos, which is an advantage that cruise boats don't offer.
Greece is one of the biggest destinations for cruise ships. However, these floating cities don't call into the tiny ports of Paxos. Instead, they sail straight to neighbouring Corfu, which receives about 450 cruise ships a year! From there, passengers can choose to take one of the day cruises to Paxos and Antipaxos. Often these can be booked on board of the big cruise ship. So yes, it's definitely possible to include Paxos in a cruise itinerary; it just requires some creativity.
When we think about cruises, we often envisage huge, multi-level ships with hundreds of cabins for thousands of passengers. But cruises can be done on any level. Let's take a sunset cruise as an example. Or a flotilla that allows new captains to practice their sailing newly acquired sailing skills.
Paxos is a favourite stop on the route that includes islands like Corfu, Kefalonia, and Zakynthos. Thanks to the consistent winds that blow in the Ionian Sea, it is easy to island-hop and spend one night on each island. The mountains and hills of the islands and the mainland create interesting wind effects, where it diverges or converges into channels or is blocked completely. In other words, there is never a dull moment and plenty to learn for beginning and intermediate sailors.